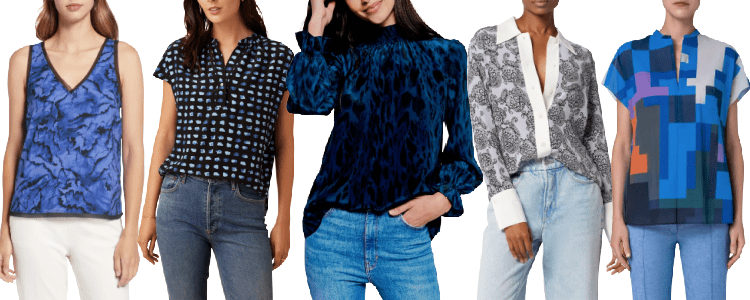 Sure, we all know what wardrobe essentials for work professional women are supposed to have in their closets, but if you're buying one for the first time or replacing one you've worn into the ground, it can be a pain to find exactly the right incarnation in stores. In "The Hunt," we search the stores for a basic item that every woman should have.
We've done a ton of roundups of super basic, solid blouses (both silky and crisp) — wardrobe essentials if you like the look.
Personally, though, I tend to either be someone who wears all black, or multiple colors at once. Blouses with fun prints can be an easy way to get this look because you can pick out a color from within the print to match, and then add a third piece in that color (e.g., blazer, pants, sweater).
We've never done a roundup of where to get blouses in fun prints, though, so I thought we'd go on a hunt… especially since so many workwear stores specialize in solids (and neutral solids at that!).
Readers, if you're going to splurge on blouses, would you prefer a solid or a print? What are your favorite prints — and which blouses and tops in your closet right now are favorites for work?
This post contains affiliate links and Corporette® may earn commissions for purchases made through links in this post. For more details see here. Thank you so much for your support!
Where to Find Blouses in Pretty Prints
Halogen blouses have been reader favorites for years because they're so affordable and come in a number of fun prints. This sleeveless blouse has a bunch of great colors at the moment, including this fun blue abstract one; they're priced at $19-$49 and come in sizes XXS-XXL. (They often come in plus sizes as well, but there aren't any in stock at the moment.)
Other super affordable options include NYDJ (this blouse is a long-standing reader favorite, available in regular and plus sizes) and Kut from the Kloth (this blouse is a solid option).
(In general, though, I tend to think of prints as being the dividing line between a budget blouse and a much pricier one. The lower priced options often have odd fabric alignments where the pattern doesn't quite match up, or a wide range of patterns that might be cool or might be tragic.)
Ann Taylor is another great option for blouses in pretty prints. The popover pictured above is a reader favorite and often comes in a ton of great prints and colors, but they also have knits, sleeveless cowlnecks, and more in a bunch of great prints. The blouse above is $64.50, but of course keep an eye out for Ann Taylor sales.
Note that sister site Loft is another great source for affordable blouses in fun prints! At this price point, also, do note The Kit, a sustainable brand from Project Runway alum Daniel Vosovic that specializes in digital prints. (They don't make garments until a customer makes an order, so there is almost no waste.)
Amour Vert has been on our radar for a while now as a smaller brand with great sustainability practices, as well as lovely washable silk blouses. This short-sleeved popover is one of their washable silk options, with nine different colorways available right now in sizes XXS-XL.
At full price they're $148, but there are some marked as low as $66 right now.
Tucker has long been one of my favorites for gorgeous prints. The pictured blouse is one of their bestsellers, and they note that the silk blouse has a smocked, mock-neck collar with a two-button closure at the back. There are currently 16 colorways (including basic white) in sizes XXS-2X for $275. (The blouse is 92% silk, 8% spandex, dry clean only, alas.)
No roundup of blouses with fun prints would be complete without two specific mentions, both around the same price point: Equipment NYC (pictured above) and Diane von Furstenberg. Both have been around for years, with a ton of gorgeous prints each year.
(Another reliable source in this price point: this L'Agence blouse, for $380.)
The pictured blouse — a purple paisley with white details at the cuffs, placket and collar — is $350 at Nordstrom.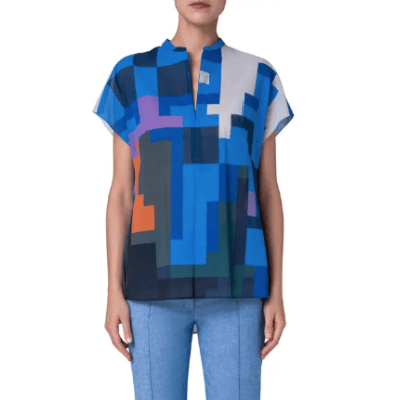 There is, obviously, several tiers above this for silk blouses, and I'd love to hear which brands you truly drool over for prints. Akris tends to be one of the brands I haunt and keep checking for sales — they've particularly had some gorgeous blue prints in recent years, which, if you can't tell from this post, is one of my favorite colors.
The dolman-sleeve blouse is "an extremely zoomed in view of flowers" (huh! we posted a suit in the same pattern a few weeks ago and the description did not note that!); the neckline has a zipper. The blouse is $995 at Nordstrom.
Where To Find Great Basic Blouses
We've rounded up some blouses in pretty prints above, but if you'd actually prefer solid colors, here are some of our favorites in each category. (Neutrals are pictured, but many of these blouses come in 10+ colors.)
The Best Popovers for Work
Readers often note that they love popovers the best — no fussing with buttons or gaping or collars that don't lie flat. Here are some of our favorites: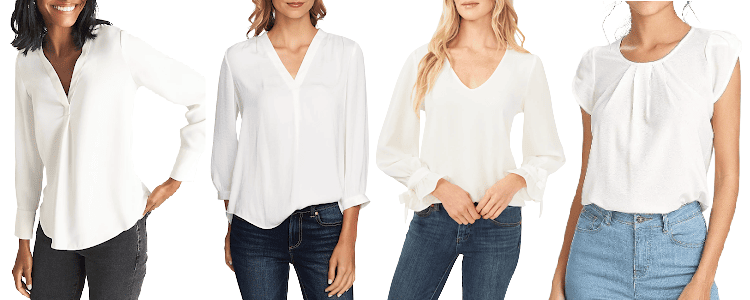 Classic Button-Front Blouses
These are classics for a reason. If these aren't your favorite, you may want to check out our post on fake collars for work outfits (to get the layered look without fussing with an actual button-front shirt), or move on to silky blouses or popover blouses (both below)…

The Best Silky Button-Front Blouses for Work
These can be even better for layering looks because they're silky — but it can also make lunchtime feel a bit fraught with danger. Who among us hasn't gotten a salad dressing stain on silk at least once?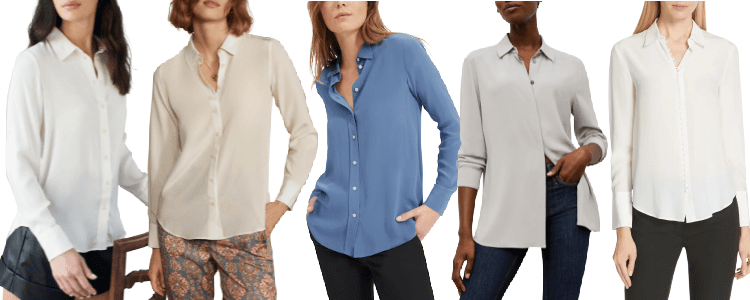 Like this feature? Check out other recent installments!