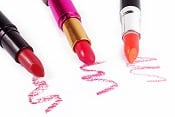 In the wake of all the makeup sales lately, I've been perusing the "best seller" lists, and am continually surprised to see some of the listed products because I've tried them and been underwhelmed. I thought today it might be fun to discuss classic beauty products — what's worth the hype, and which beauty products are overrated? For your review, Sephora has a list of best sellers as well as a list from Allure's Best Beauty Products of 2014, Beauty.com has another list of Award Winning Beauty; and Ulta has a list of their fan favorites.
My list of the overrated beauty products includes:
My list of classic beauty products worth the hype:
That's my list of overrated beauty products (and the ones that are worth it), ladies — what's yours?
Photo: Shutterstock / severija.
—————
N.B. These substantive posts are intended to be a source of community comment on a particular topic, which readers can browse through without having to sift out a lot of unrelated comments. And so, although of course we highly value all comments by our readers, we're going to ask you to please keep your comments on topic; threadjacks will be deleted at our sole discretion and convenience. Thank you for your understanding!