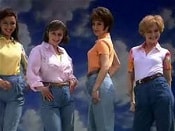 2018 Update: We still stand by this discussion on how to avoid professional frump — but if you're a working mom, you may want to check out our more specific discussion of how to avoid MOM frump.
Here's a fun topic that we haven't discussed in years — what makes something frumpy? How can professional women avoid frump?
I agree with a lot of what I said four years ago in terms of avoiding professional frump — primarily:
wearing clothes that don't fit — this is a big one! A lot of women end up in too tight/too short pants, dresses, and skirts because they've gained a few pounds and refuse to recognize it. Meanwhile, a lot of women start out in pants, dresses, and skirts that are too big — baggy, not tailored — because they think that's "professional." We've talked about how blazers should fit, how suits should fit, how pants should fit, where your pants hems should be, and which common tailoring alterations you should consider — we've also talked about when to give in and buy a bigger size.
not knowing your body. Certain cuts and fabrics are going to look amazing on tall, skinny women — wide, flowy trousers, for example.  Others will look amazing on short, curvy women — for some reason I think of ankle pants and fitted cardigans in the mix here.  And some things are going to look horrrrrible on both of those women.  I do believe that if you really love a trend that is not immediately flattering, that you can hunt and hunt for the perfect ____ or find a way to style it that looks great on you — but it takes work.  The easiest way to get dressed and be stylish every morning (and avoid frump) is to really know your body and what works on it — kind of like having a uniform, sadly! — and only deviate for special, must-have trends.
wearing the wrong shoes with the wrong pants (or the wrong hem length).  Shorter pants lengths are more popular than they were back in 2010, when we wrote the original post, but I still say that if you have a pair of flowy or bootcut trousers that you can wear with flats, they're going to look dumb with heels.
bad underwear — I've said it before, I'll say it again: I think a new bra or two every six months is a worthy splurge.  You should also assess other undergarments for smells, (visible) stains (e.g., on a camisole or full slip), frayed edges, and more.
looking unkempt in general — I'm sure I've been guilty of this during some of my random "let's eliminate shampoo" experiments with my curly hair.  Dirty hair, frizzy hair, crazy gray hairs sticking up everywhere — this all sort of helps with a general perception of "she's frumpy."  I'm not saying you have to have a smooth blowout every day, but I do think that finding a NEAT hairstyle for you — even if it's a low ponytail with a bit of hairspray to smooth the flyaways — is important, particularly if you're in a transition period.  (If you're going through a lot of changes with your hair — such as after having a baby or during other big hormonal changes — the "wispies" may be a particular problem, and a bit of hairspray will go a long way towards making you look put together. I'm never quite sure if the wispies are broken hair or new hair growth, but you know what I mean: they're not quite bangs, they're not necessarily gray, but whatever they are, they're not willing to lay flat.)  Lipstick on collars, collars that are half-sticking out and half-sticking in, skirts that are sticking to pantyhose… all of this contributes.  (Just think of the teacher in Clueless!)
Last time we discussed this, a lot of readers had very specific "FRUMP ALERT" type of things — chunky heels, cropped pants, and more — I'm curious to hear what people think gets an automatic frump flag in 2014.  Ladies, over to you — which looks are hopelessly frumpy? Which looks should you avoid if you don't want to look frumpy?
—————
N.B. PLEASE KEEP YOUR COMMENTS ON TOPIC; threadjacks will be deleted at our sole discretion and convenience. These substantive posts are intended to be a source of community comment on a particular topic, which readers can browse through without having to sift out a lot of unrelated comments. And so, although of course I highly value all comments by my readers, I'm going ask you to please respect some boundaries on substantive posts like this one. Thank you for your understanding!