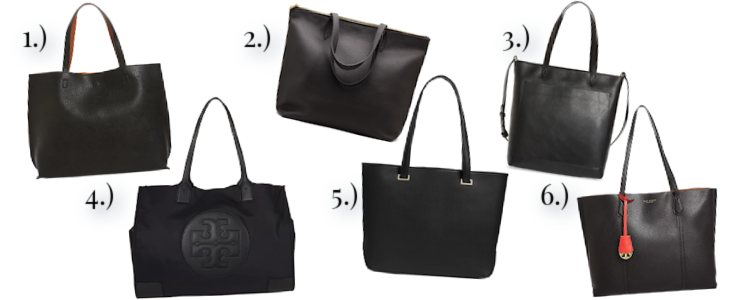 (Looking for a luxury work bag? Here's our latest roundup…)
Sure, we all know what basics professional women are supposed to have in their closets, but if you're buying one for the first time or replacing one you've worn into the ground, it can be a pain to find exactly the right incarnation in stores. In "The Hunt," we search the stores for a basic item that every woman should have.
We haven't done a Hunt for professional tote bags in FOREVER, so I thought we'd do one now. With OCI/EIW coming up we should discuss what makes a great interview tote, which I've always seen as a pretty major subset of professional tote bags. A great interview tote should:
be large enough to hold a folder that contains the absolute latest version of your resume
have structure to it — if you put it on the floor it will stand up or at least lean (so — while I love me my Planetes Longchamp bag, I wouldn't interview with it — it's also for this reason that most of these bags are east/west bags rather than north/south bags)
be mostly solid and lacking logos all over it (so in my book most Neverfulls, Goyard, and MCM bags are out — but a Neverfull in an Epi leather is a different issue)
have enough organization that you can ditch your purse and just carry the tote bag (or, put another way, it becomes your purse)
not be primarily as a laptop tote — unless you anticipate needing your laptop during the interview, you don't need the weight and the added stress of keeping tabs on your bag (but see our laptop tote roundup if you're looking for one)
I once joked that if you're just looking for something to shuttle papers to and from the office, most of the rainmakers I knew carried boat bags, or at least the tote bags one gets for donating X dollars to charity or attending a conference, suggesting it was all part of "what your tote bag says about you." Now I think it's just because those suckers add up over the years and they're perfect for sticking in your office closet! (Although I will note – an LL Bean rep recently told me that this bag can hold up to 500 pounds because it was designed for carrying ice blocks through the winter. Ice blocks, huge binders, whatever, right?)
So ladies, let's discuss — do you carry a tote bag as your regular purse, or only if you're interviewing or otherwise carrying a folder? What do you look for in a professional tote bag? Do you prefer hand-held briefcase/satchel styles, north/west styles, east/west styles? Leather, nylon, or coated canvas? Have you bought any great ones lately, or do you still carry any older ones?
Update: Our Latest Favorite Professional Tote Bags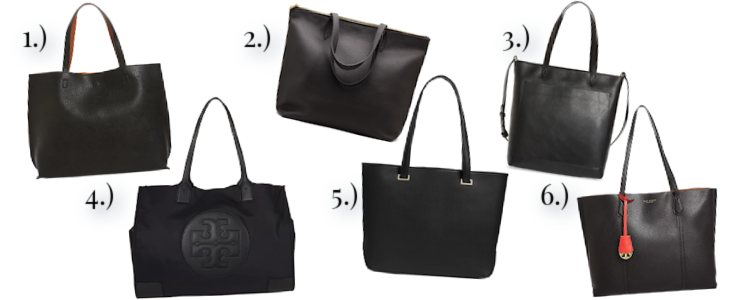 (Looking for a luxury work bag? Here's our latest roundup…)
As of Feb. 2023, some of our favorite luxury work bags for a splurge (large enough for work papers and sometimes even a laptop) are from Chanel, Louboutin, McQueen, Mulberry, MCM, Jimmy Choo, Ferragamo, and Strathberry. Of course, note that a lot of our readers who are in big jobs note that they love their (more affordable) Lo & Sons bags, as well as their Tumi.
Looking for work backpacks to splurge on? Montblanc, MCM and Senreve are great, and Valextra has some men's backpacks that look perfect.
Curious for other versions of this roundup? Here they are from 2021, 2018, 2017, 2016, 2014, 2014,  2013, 2012, 2011, and 2010).
This post contains affiliate links and Corporette® may earn commissions for purchases made through links in this post. For more details see here. Thank you so much for your support!
Featured Professional Work Bags
Best-selling, classic styles are great, but sometimes you want to know what else is on the market today. So: six bags we're liking today…
Please note that these featured styles are probably sold out by now, but check out the image at the top of the post for all of our latest favorites!
I'm kind of surprised there are so few choices under $100 — but I haven't found many online I'd like to recommend except for the ones listed above. Still, for $49, this bag is hard to go wrong — it's got a zippered top, lots of organization, and it even comes with a little wristlet. It's $49 at Target. Merona Solid Nylon Work Tote with Faux Leather Trim
This nylon Baggallini bag has a TON of pockets and organization, and a zippered travel sleeve for rolling bags (love that feature!). Amazon and Zappos both have it, but Amazon has more color options, some as low as $93. The pictured bag is $158. Baggallini Errand Travel Tote Bag
I usually think of Knomo as specializing in laptop bags, but they have a ton of nice options that could work with or without laptops inside. We've featured the Curzon before and it still looks good; pictured here is the slightly sharper Grosvener tote — I love the bright red lining, the top zip, and all the pockets. It's $199 at Zappos. KNOMO London Grosvenor East/West Top Zip Laptop Tote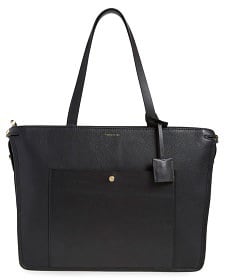 The Nordstrom Anniversary Sale has a ton of great bags, including the Kate Spade Spencer Tote we featured a few days ago and (pictured) this lovely structured number from Louise et Cie. I love the suede contrast panels at the side, and the fact that it's so structured it almost looks like you're carrying a very large book. It's available in black and "warm taupe" at Nordstrom for $229 during the sale; after the sale it'll go back up to $348. Louise et Cie 'Yvet' Leather Tote (Nordstrom Exclusive)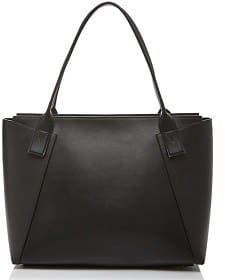 Ohhhh. I like this one. The simplicity of the bag and the interesting folded details are calling my name. I wish it had more interior organization (it's just got two slip pockets), but so it goes. It does have a zipper on top. It's $395 at Bloomingdale's, where it's one of the best sellers. Vince City Tote
Tumi has always been a reader favorite, with both the Voyageur line and the Sinclair line getting lots of love. This newer Viera tote in coated canvas (in the Sinclair line) looks great — lots of interior organization, a top zipper, and metal feet. Unfortunately it lacks the travel sleeve that lots of Tumi bags have — I like the more structured Tumi Athens bag best if you're looking for that feature — it's on sale at Amazon for $263-$328. (Note that there's a green version of their basic Voyageur nylon tote in the Nordstrom Anniversary Sale also, marked from $292 down to $195.) The pictured bag comes with a laptop sleeve, and is $545 at Zappos. Tumi Sinclair Viera Business Tote
Like this feature? Check out other recent installments!
We are a participant in the Amazon Services LLC Associates Program, an affiliate advertising program designed to provide a means for us to earn fees by linking to Amazon.com and affiliated sites.