Today's question is an interesting corollary to readers' discussion on opaque tights: are colored tights ever professional enough to wear to a conservative workplace? 
For the fall, can you rock colored opaque tights (subdued forest green or burgundy) in with an otherwise conservative skirt suit/sheath dress? I work in a tech firm where only the business unit, which I'm not in, fully suits up. Problem is, there are so few women in the company and offices so scattered I can't take cues from my female coworkers. Any thoughts?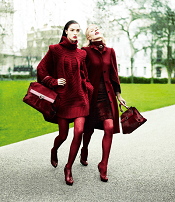 This is interesting, as we were just drooling over the Ferragamo ad (pictured) while flipping through Harper's Bazaar.
There are a few different ways to wear colored tights, obviously. There's the look above — head to toe color —  which, on the Ferragamo models, looks oh so chic and fashion-otherwordly, but in real life has a tendency to look like a bad '80s movie.
There's the "layered" look — wearing a lot of colors, amongst them colored tights; for example, a gray skirt, yellow tights, purple blouse.
There's the "mod" look, wearing a loose-fitting, fairly drab dress (for some reason, the more potato-sacky the better) that is a few inches above the knees with a shock of color in the tights.
And there's the "matchy" look, meant to elongate the legs, such as wearing an army green wool skirt with matching army green tights.
We've tried all of these looks and, honestly, for us, not many of them work for the office. The mod look works well on the weekends, particularly if you're going to be very active because you can wear flat-heeled boots, opaque tights, and be quite comfortable, stylish, and covered. The other looks tend to look too clownish or odd. But maybe that's just us. If you decide to try any of the looks, start conservative; for example, wear a pair of navy tights with a gray skirt and a black sweater and see how you feel that day.
Another great way to deal with the issue is to wear patterned tights in a neutral color — you add texture and interest without straying too far from "conservative office attire." See some great picks below:
2022 Update: Here are some cute colored tights for work! If you're looking for something high quality check out Falke's opaque tights in sedate colors; if you want affordability, these $17 Amazon tights have 7700+ great ratings and tons of colors.

Readers, what do you think — have you found a way to wear colored tights for the office?
N.B. This post was originally written on Oct. 5, 2015 but substantially updated in November 2021.
Image updates via Deposit Photos / matusciac.