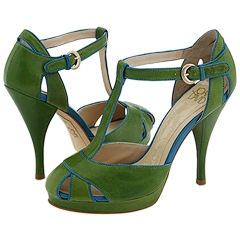 Today's reader is tired of her black shoes…
I wear black shoes far too often, including with grey slacks. Do you have any guidance on shoe colors and recommendations on what should go with grey?
Well, our love of purple shoes is well documented — really, they're great with navy, gray, beige, and even a dark green color.
Otherwise, we're getting into your risk tolerance with shoe choice.
Red shoe:  bold, but can be a great neutral to wear with things.
Patent leather red:  probably too bold for work.
Green shoes: Lately, we've been lusting after green shoes, having seen a number of women wearing them. The trouble with green is that, between the shade of green and the shade of your skin tone, you may not be able to wear them with skirts without your legs looking slightly sickly — but if you're just looking to wear them with gray pants, go for it.
We would also recommend playing around with ideas of what you can and can't wear together — for example, some would say that gray and brown should never go together, but if you wear gray slacks, brown heels, and a cream colored sweater, it can be a lovely outfit.
Pictured above left: Joan & David – Joey (Medium Green/Medium Blue Leather) – Footwear
, available at Zappos for $163 (was $204). Pictured above right:  Mia Women's Mabel T-Strap Pump, available at Endless for $33 (was $60).
Some of Our Latest Favorite Colorful Shoes
Purple Heels for the Office
2023 Update: Here are our latest favorite purple heels for the office!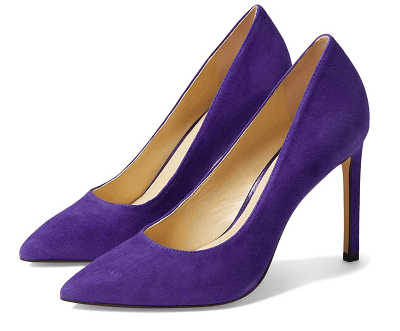 Silver Shoes for Work
2023 Update: It looks like silver shoes are due for a comeback — here are some of our latest favorites:
Red Heels for Work
Update! As of Oct. 2021, these are some of our favorite red heels for work…

Green Heels for Work
Stay tuned for our roundup of green heels!
Blue Heels for Work
Stay tune for our roundup of blue heels for work! In general, note that you CAN wear navy and black together, but usually it's black heels with navy pants… as always, if you're going to wear blue and black together, you should make sure that it's obvious that you KNOW you're wearing blue with black, instead of looking like you got dressed in the dark.
Stay tuned for our latest favorite navy shoes for work!