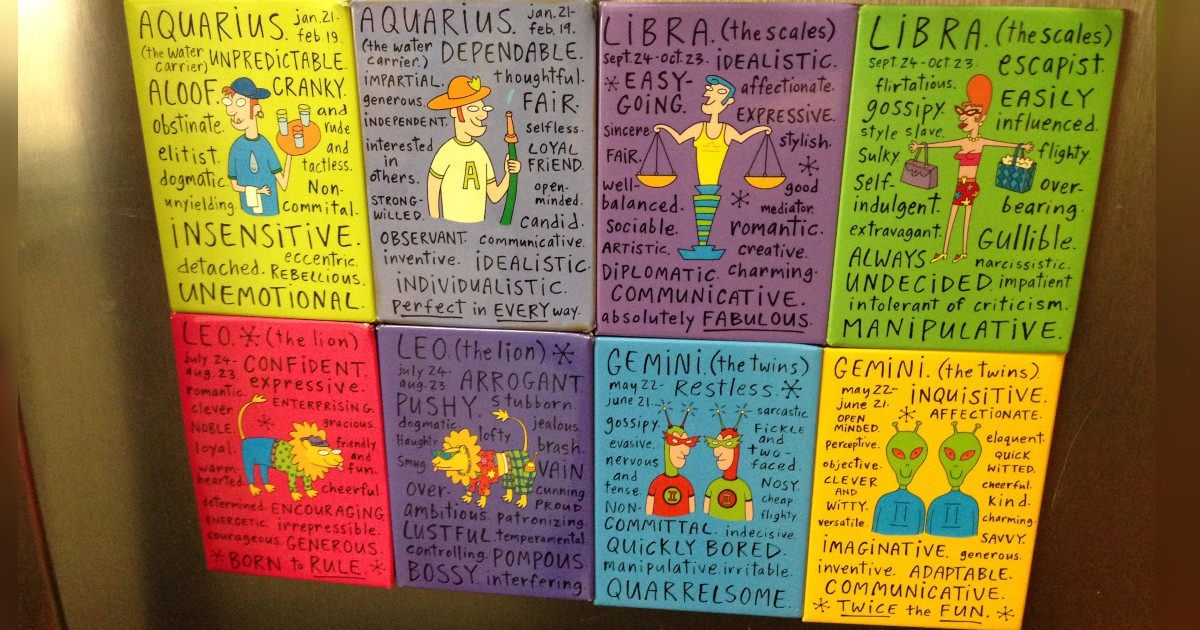 What are your thoughts on astrology, readers?
My impression (mostly based on scrolling through Instagram, etc.) is that millennials seem to be really into astrology compared to other generations — and I did some quick Googling to see if that's the case. A search turned up a bunch of headlines along the same lines, like, "Why Are Millennials So Into Astrology" (The Atlantic), "Why Millennials Are Turning to Astrology (Guardian), and "How Astrology Took Over the Internet" (NYT). And here's the bigger picture: A recent Pew study found that 29% of U.S. adults believe in astrology. We thought this would be a fun discussion today — for readers of any generation. So, do tell: Do you believe in astrology, to any degree — or do you think it's bunk? How old are you, how strongly are your beliefs (one way or the other), and if you DO believe in astrology, what are your favorite resources?
To kick things off, here are some personal thoughts on astrology from four Corporette team members (with an age breakdown of three younger Gen Xers and one older millennial):
Kate
I don't put much stock into astrology … but it would be hypocritical of me to say it's a silly interest/hobby, because my "thing" is that I'm pretty superstitious; I have to throw salt over my left shoulder when I spill some, and often say "knock on wood!" to avoid jinxing things. (I know, am I 80 years old?) As for astrology, I do know that I was born on the Sagittarius-Capricorn cusp and that I'm a Horse (with a Snake husband and Tiger son — I'm a teeny bit more interested in the Chinese Zodiac than average because my husband is Chinese). But I am definitely not worried about bad things happening when Venus is in retrograde, and I don't read my horoscope (well, anymore), and I only thought to look up my son's star sign several years after he was born. OK, I do own a Sagittarius constellation necklace — a cheaper version of this one — and as a kid, I once racked up big charges on a 1-900 astrology number…
Kat
I have always identified strongly with my sign, Aquarius — we're supposed to be creative, aloof, introverts, loyal. (When I was around my preteen years I was super into astrology and other occult type things, and my mom had my chart read — all I remember was that it was a huge printout. Oh, and a tarot card reader I visited on a lark kind of predicted me meeting my husband.) Back to astrology: Years ago when I was single, I found a magnet that had all these traits of an Aquarian that I agreed with — YES, I thought, this magnet GETS me! When I met my husband and we got serious, I bought a second magnet with his sign (Libra) and, funnily enough, that was the first time I noticed how NEGATIVE my magnet was, and how POSITIVE his magnet was. When I went back to the store I realized they had two magnets for every sign — negative ones and positive ones. DOH. We now have the magnets for every family member (see image above).
Rebecca
As a tween, teen, and into my 20s, I recall I would frequently check my horoscope in magazines like Sassy, then later Bust, and Village Voice or other alt weeklies — places where they were meant to be fun or silly or entertaining. At some point a long time ago, I looked up my birthday, sun sign (Cancer), and even my sun sign/Chinese horoscope combo (Cancer/Goat). To remind myself of Cancer's supposed traits because it has been so long, I looked it up before writing this. I think I do line up with the best (and the worst?) traits of my sign: I like to be a homebody (but not always), I consider myself to be sensitive in an empathic way, and as recently as a few days ago, I was checking out some moon-shaped jewelry. It turns out the moon is Cancer's ruling "planet," so that tracks. :) [Rebecca also shared a podcast recommendation: "Night Call, which talks about some occult-ish things — aliens, cults, Ouija, hauntings — but in a skeptical way, and they take listener calls and emails. Worth a listen!"]
Elizabeth
Here's mine: I'm an elder millennial, but for the most part, astrology has never been particularly appealing to me. (Maybe because I'm an intense Scorpio who can't be bothered with stuff that I don't totally understand?) I did recently download the Co-Star app after reading about it somewhere. It gives you a detailed horoscope based on your birthdate and time, and for some reason, I've really been getting a kick out of them. This morning's push notification was "Spend your money today." Don't mind if I do, DvF dress!!
So, let's discuss: Do you believe in astrology? Do you read your horoscope regularly? Do you feel like your star sign fits your personality?