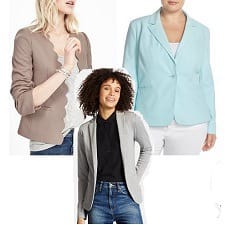 Sure, we all know what basics professional women are supposed to have in their closets, but if you're buying one for the first time or replacing one you've worn into the ground, it can be a pain to find exactly the right incarnation in stores. In "The Hunt," we search the stores for a basic item that every woman should have.
As temperatures start to climb, that blazer starts to look less and less attractive — constricting! hot! layers! oh my! And of course, if you CAN get away with it at your workplace or job, you ditch the blazer for a sleeved sheath dress, only keep it in your office as a topper for air conditioning, or find other professional things to wear.
Still, for those of you who want to wear blazers in hotter temperatures (at conferences, cocktail parties, and other networking events that may be indoors or outdoors), I thought we'd round up some summer blazers in linen, cotton, and other lightweight fabrics — we looked at lightweight blazers last year, but it's time for an update.
Hunting for lightweight blazers in linen and other fabrics? As of 2023, J.Crew's Parke blazer is available in linen, as is this super affordable Quince blazer. Along related lines (all machine washable!), check out Uniqlo's Airsense jacket (lightweight and stretchy), Madewell's Drapeweave line (lightweight and drapey) and Brooks Brothers' Soft Icons line (lightweight and drapey).
We are a participant in the Amazon Services LLC Associates Program, an affiliate advertising program designed to provide a means for us to earn fees by linking to Amazon.com and affiliated sites.
This post contains affiliate links and Corporette® may earn commissions for purchases made through links in this post. For more details see here. Thank you so much for your support!
*If you are interested in plus-size workwear, please sign up for CorporettePlus, our newsletter! We promise not to blast your email more than once a week. (Right now it's more like once a month.) In keeping with our Privacy Policy, we'll never sell your email address.
April 2023 Update: These are some of our latest favorite white blazers...
(Here's our 2014 roundup of linen blazers, our 2013 roundup of white blazers, and our 2012 roundup of summertime blazers.)
First, some of the Hall of Famers we mention above — these are the best selling styles that have been around for years and years:
A cardigan cut like a blazer can be a great option if you want a comfortable, flexible option. Also, the shorter length here would be great paired with dresses. I like that this one also apparently blocks UV rays. It's available in five colors, sizes XS-XL, for $39. UV Cut Cardigan Jacket
I'm always a fan of a light blue blazer — they get so much wear (as a lot of readers agreed in our last post on blue suits). This linen one from Limited looks nice — it's $130 full price, but is $65 today — and it's available in petite and tall sizes, as well as regular sizes XS-XXL. Lightweight Linen Blazer
I am surprised by how much I like this (mostly) cotton jacket, because I think I decided in elementary school that the scalloped look wasn't for me. But: scallops are a big trend right now, and I actually really like the look on the blazer. It doesn't hurt that this taupey color is a great topper for an otherwise all-black summer outfit. It's $168 full price, available in sizes 2-12. Collarless Scallop Blazer
Hello, sale! This summer blazer is actually part of a linen suit over at Hobbs. I love the navy, as well as the shrunken fit. The blazer was $375 but is now marked to $210. Indie Jacket
Another light blue one! This one is worthy of discussion because not only does it come in plus sizes as well as regular and petite sizes, but it's cotton pique. It's harder to find women's workwear in pique, but in my experience it tends to wrinkle less and and be a little more… breezy, if that makes sense. The blazer is $268-$289 at Nordstrom. Classiques Entier® 'Prima' Piqué One-Button Blazer
Aaah, this collarless linen blazer from Theory is perfect — lightweight, clean, modern. I always like three-quarter sleeves, also. The blazer comes in black, white, and beige for $355 from Nordstrom. Theory 'Lindrayia' Linen Blend Blazer
Ladies, which are your favorite summer blazers? How do you wear them?
Like this feature? Check out other recent installments!