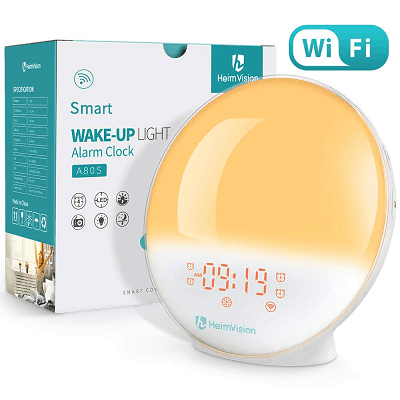 After last year's post on how to wake up more easily when it's dark out, I bought this affordable version of a sunrise alarm clock and thought I'd give a mini review. In short, I like it! It did take a bit of time to set up, though, and I never managed to get it connected to my WiFi. But basically there are multiple light modes, so you can have it go from dark to light (like a sunrise) or start you out and sustain a stronger light.
Similarly, it comes with numerous options for noises to wake you up, from white noise like waves to happy little chimes to traditional annoying beeps (or a radio!). It's designed to have multiple alarm modes, so your first alarm could be just light, and your second alarm could be a combination of light and sound, or just have sound.
At the moment I personally just have an alarm set with the lights; this usually isn't enough to wake me up (or wake my husband), but it helps me gauge what time it is if my youngest comes barreling into the room shouting that it's time to get up. (It is sometimes 3 or 4 AM when he does this, so having an artificial light come on automatically at 6:30 is helpful and kind of comforting.)
The one I bought (HeimVision Sunrise Alarm Clock) is $40, and when I bought it I knew it was a more affordable version of the Philips Smart Sleep Wake-Up Therapy Clock, which is currently $112 at Amazon. I can't compare the two because I have the budget version, but if you really prefer easy set up I'd encourage you to look at the Philips one instead.
That said, I like the one I bought and am happy to use it daily; I do think it helps me wake up more easily when it's dark out.
This post contains affiliate links and Corporette® may earn commissions for purchases made through links in this post. For more details see here. Thank you so much for your support!
Some great sleep aids if you're struggling with sleep issues…