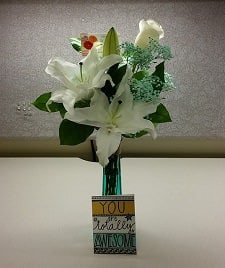 2018 Update: Administrative Professionals' Day is April 24, 2019. You can check out our most recent thread on what we're getting for our assistants on Administrative Professionals' Day here. 
Do you socialize with your assistant or secretary? Do you consider him or her to be among your work friends? Or do you keep your relationship with staffers friendly but avoid turning it into an actual friendship? If the relationship has swung too far towards "friendship," how do you bring it back to "collegial"? Reader N wonders…
How do you reformalize a working relationship with your secretary? I work in law and I have been cognizant about not talking down to my secretary, who is also a young female. I have noticed recently she has interpreted this to mean we are "friends," which is fine. Recently, she has seemed to step up her attitude, and does not make requests of me politely. I don't want my niceness mistaken for passiveness or that she does not need to respect me the way she does others who were not as nice.
Hmmmn… tough question, Reader N! With Administrative Professionals Day observed this Wednesday it's a good time to revisit the issue. In general, I think it's fine to be friendly with staffers and other subordinates, but the closer the relationship gets, the more complicated it gets. One reader wrote to us a while ago where she was the only female lawyer, and the group of female secretaries was being very welcoming — in that case, where she already had an uphill battle to be/feel accepted with the other lawyers, I think she was right to keep her distance.  Outside of that circumstance, friendship with subordinates can also be complicated because if the assistant screws up, needs redirection or criticism, or just generally needs firmer deadlines and oversight, all of that is easier to do with an arm's length, professional relationship, without adding more intense emotions of doubt and betrayal ("but I thought we were friends" / "why is my friend betraying me"). (We had a great discussion on whether a boss should be respected vs. liked just last year.)
As to reader N's question, how can you bring an office friendship with an assistant back to a collegial relationship? I'm curious to hear what the readers say here, but I think the answer is "very carefully." My $.02 tips: