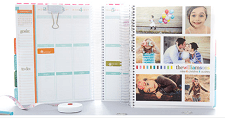 2016 Update: Check out our latest discussion on how to find the best planner for you.
Today, reader D wonders if she has to make her own Franken-planner to find the absolute best planner out there…
I realize this may be a bit too late to be useful for the upcoming new year, I would love to see a post regarding the various paper calendars/planners Corporette users prefer.  I was digging through archives and read the entire post/comment thread regarding

notebook and legal pad preferences

, and I thought a similar thread about planners would be just as interesting.  A girlfriend and I struggle every year with finding the "perfect" planner, to the point we try to cobble together some sort of Franken-planner on our own.  We've actually discussed starting our own company to remedy this problem.
Actually, for people who can afford to wait, mid-January is a great time to get planners and calendars on deep discount — so let's talk about it. Readers, what is your favorite planner/calendar system? 
(Pictured: Super cute custom day planners by Erin Condren, available at Tiny Prints (get 20% off any order + f/s when you spend $99, offer ends 1/10).) [Read more…]