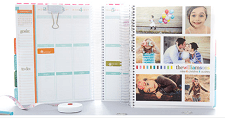 2016 Update: Check out our latest discussion on how to find the best planner for you.
Today, reader D wonders if she has to make her own Franken-planner to find the absolute best planner out there…
I realize this may be a bit too late to be useful for the upcoming new year, I would love to see a post regarding the various paper calendars/planners Corporette users prefer.  I was digging through archives and read the entire post/comment thread regarding

notebook and legal pad preferences

, and I thought a similar thread about planners would be just as interesting.  A girlfriend and I struggle every year with finding the "perfect" planner, to the point we try to cobble together some sort of Franken-planner on our own.  We've actually discussed starting our own company to remedy this problem.
Actually, for people who can afford to wait, mid-January is a great time to get planners and calendars on deep discount — so let's talk about it. Readers, what is your favorite planner/calendar system? 
(Pictured: Super cute custom day planners by Erin Condren, available at Tiny Prints (get 20% off any order + f/s when you spend $99, offer ends 1/10).)
Personally, I use a number of systems… so maybe a Franken Planner is needed!
Daily planning: As I mentioned, I recently gave up my Palm Pilot and switched to an Android phone. I looked around for a good calendar program, and came up with the following solution: I use Google Calendar (for free) and sync it with Pimlical (which cost about $25 if I remember correctly).  Google Calendar is great because it gives me notifications on my Android, my iPad, by email, and more — it's very hard for me to forget appointments or whatnot with the system!  Pimlical is great, though, for a more permanent record of what I was doing and when.  I tend to take a lot of notes in my calendar program — for example, every time I see a doctor I record my vitals and any topics discussed on the appointment in Google Calendar. Oh: another thing that's nice about Google Calendar is that I can invite Outlook users to events — so when we book an airline flight, for example, I can instantly give my husband the details and put those on his calendar as well.
Longer distance planning:  Something I've done for a few years now is to use my Palm Pilot software to print a yearly calendar, with each month getting its own page.  I liked Palm because each day was a big enough block that you could write in it, but with only 12 pages the whole "packet" wasn't too huge or crazy to actually use.  I always put all vacation days on it — federal holidays and the like — and would primarily use the packet to plan vacations.  (When vacation details are finally set I put everything relevant into the Google Calendar.)  When I was planning my "maternity leave" for Corporette I used the planner to keep an eye on which posts I had scheduled for which day, which needed more editing, which days still needed a post or two.
I also have a big monthly calendar (for 2012 I used Snapfish to make baby-centric ones and then gave them as gifts to my parents, my in-laws, my grandmother, and my brother) that we hang on the wall — I also write friends' birthdays on that one (and, um, decorate it with stickers, because I like to indulge my inner 8-year-old).  It's great for glancing at the calendar occasionally to see whose birthday is coming up, what the date will be next Wednesday, etc, etc.  Something I really liked about Snapfish was that I could select individual dates to recognize — and so, for example, I have a picture from our wedding album on May 30 to commemorate our wedding anniversary… for each grandparent's birthday I have a picture of him or her holding my son… it came out really nice.  (After coupons and the promotions they had going on, each calendar only cost about $9, so it was more about the time invested to make it… but I'm really glad I did.)
Finally: I have a little teeny calendar at my desk that I got through Vistaprint — basically each day just shows me the monthly calendar (just the big numbers) and a picture (of course this one is baby-themed as well).  (Just an FYI: Vistaprint is offering 50% off all custom-printed calendars, including little desk-sized ones like the one I got.)
The other big aspect to planners are tasks, I suppose.  I've written before of my love for
Remember the Milk
, but I tend to use that for longer distance planning rather than actual things like "remember the milk" (it seems more efficient to either a) directly add it to my cart in Fresh Direct, b) head out to get some, or c) text my husband to pick up on his way home). I use it for TPS reports (if I see a cute dress for a Splurge, or in a certain price range), as well as to manage my growing addiction to ordering things online (i.e., remember that X is to arrive in Y days, you should get a refund for $100ish in 3 weeks, etc).  Beyond that I use Post-Its, to be honest.  I know my brother just spent a fair amount of money on a good iPhone app to implement the "
Getting Things Done
" system, but I can't remember the name of it now — I'll update this when I do.
Readers, what is your favorite planner/calendar system?  Do you share calendars/planners with multiple people, i.e. your secretary or your significant other? Do you have multiple systems, like I do?