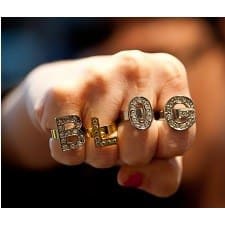 If you have a personal blog that's not work-related, should you keep your blog a secret at work? When does your company need to know? Reader K wonders…
As a fellow lawyer, I followed your blog closely back in my NYC law firm days. I now have a more flexible legal position. (I often work remotely as my primary job is meeting with clients.) My question is concerning blogging — as I can't express much creativity in my day job, I've been blogging at night and on weekends (on my own non-work laptop). It's a personal non-money making blog — in fact it's more of a money pit. My blog has nothing to do with work, I never even mention work — nor is it controversial. (It's about shopping & travel.) What is the etiquette concerning letting people at work know about my blog? (My work FB friends know, but I don't offer the info to anyone unless asked.) I know you blogged anonymously for a long time — I thought about doing this but it seemed like it might hold me back (Google authorship, guest posting, etc.). Should I worry about work "finding out"?
Great question, K. I "came out" to my law firm a month or two after I started Corporette because, even though I wasn't making much, I had started the blog as a business and was worried about running afoul of an ethics rule my firm had regarding disclosing business connections. Still, there can be a big difference between a handful of HR people knowing about your blog, and attaching your name to the blog publicly — both for professional and personal reasons — so let's get into it.