2018 Update: We still stand by this guide to stylish cardigans for the office — but you may also want to check out our recent roundup of jardigans!
We shared our first Corporette Guide to Cardigans way back in 2010, so we figured it was time for an update — and the timing is just right for those of you who freeze in your air-conditioned offices during the summer, or are shopping for easy layering pieces for the fall.  We've talked about how how to button cardigans for work in the past, as well as how to buy seasonless cardigans.
Ladies — which is your favorite KIND of cardigan to wear to the office? Do you have a favorite brand or style that you keep buying, or have stocked up on recently?  What are your biggest struggles with finding stylish cardigans for work, or styling them to look appropriate for work?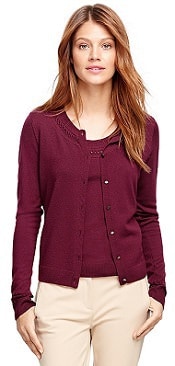 1. Banded. These cardigans have some banding at the bottom and (usually) on the sleeves, which makes their shape a bit blousy or boxy. They can come with a matching shell for a twinset look, or be worn by themselves with, for example, a button-front shirt or blouse, or a nice tank or tee (such as the cardi pictured, Saxxon Wool Cardigan, available at Brooks Brothers in nine colors for $148). Because these kinds of cardis have their own shape, they're less than ideal for wearing with dresses, and, for our $.02, best with pants. Ideally you want full-length sleeves so that you can easily wrap it around your neck if you need to — that said, three-quarter length sleeves are very popular, such as this Halogen cardigan (20+ colors, regular, petites, and plus sizes, for $27-$56). If the twinset is very boxy (think a more Jackie O cut), then they can be worn over your shoulders, almost like a cape. Other examples: reader favorite Supima Cardigan at Lands' End ($19-$89, a zillion colors and prints, regular, petite, and plus sizes), reader favorite Charming Cardigan at Talbots, $19-$99, this merino cardigan in 12 colors for $39 at Uniqlo, or this J.Crew cashmere cardigan (16 colors!, sizes XXS-XXL; pictured at very top). One of my budget favorites has always been August Silk — look for them at spots like TJ Maxx, but Amazon also carries them, as does Macy's.