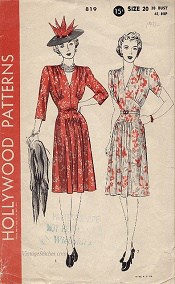 Are skirts and dresses unprofessional? What if you have a boss who has a firm opinion, one way or the other? What if you have a boss who forbids YOU from wearing dresses and skirts, when other women in the office can and do? Reader A wonders…
I recently started a new job in a creative industry, and our offices are officially business casual but usually just regular casual. My boss hates that I wear dresses and skirts. She told me that looking feminine in the workplace is bad for careers and she only wants me to wear jeans or khakis if she's in the office and I can only wear skirts when she travels. I've abided by it for a couple months since she was really persistent about it, even though other women in the office wear skirts. I'm confident that my skirts are not inappropriate length wise, they're standard work skirts from Macy's and Lane Bryant. Nothing ruffly or lacy either.

Anyway, my manager is leaving the company, but now I feel insecure about my clothing. Is it a bad move to wear skirts and dresses several times per week?
Wow. Honestly, your former manager sounds super annoying — particularly given that other women in the office wear skirts! I can only assume it's a personal problem with you (something about your style irks her) or she is being sizeist, whether consciously or unconsciously. (The other possibility I thought of after Googling Reader A's email address: The manager felt threatened professionally by Reader A, who already has an established, successful career — and wanted Reader A to look less managerial.) [Read more…]