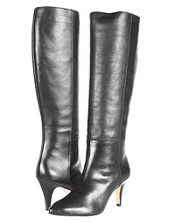 2017 Update: We still like a lot of these tall black boots for work, but you may also want to check out our most recent discussion on what boots to wear with tights to work. 
Sure, we all know what basics professional women are supposed to have in their closets, but if you're buying one for the first time or replacing one you've worn into the ground, it can be a pain to find exactly the right incarnation in stores. In "The Hunt," we search the stores for a basic item that every woman should have.
We've talked about knee high boots before — a lot — but I don't think we've ever done a round-up.  (Update: check out our 2015 roundup here.) To repeat what I've said before — wearing tall boots is very much a "know your office" kind of thing, and in very conservative offices people may attach words like "dominatrix" to boots — so proceed with caution!  I do think in general that black tall boots have come a long way, and provided they're not over your knee (and they're well taken care of) most women can get away with wearing them, particularly with opaque black tights and modest skirt (not a miniskirt), to the office. For my $.02, I would also avoid a boot with a thick platform (such as these).  Readers, have you recently bought a great pair of black boots?  What do you look for in an ideal pair — and how much are you willing to spend? (Check out the roundup, below…)
I like the lace detail on the back of these Naturalizer boots — and the heel looks walkable. These come in black, brown, and "pavement" leather (taupey), as well as gray and brown suede. 6pm.com has a number of colors and sizes for $71.60 (they were $179), and Nordstrom has the regular and the wide calf boots for $118.90. Naturalizer Dinka (Regular Shaft)
 These Tsubo boots have a few qualities that I'm not sure about for the office — the glossy heel, the diagonal top to the boot — but Tsubo boots are always rated really well for comfort, and if you watch the video and look at the detail shots on Zappos it really does look like it would be a super comfortable boot. This one also comes in slate; Zappos has both for $275. Tsubo Lilion
Personally I love Frye boots for comfort, but it can be a bit tricky to find one that also looks good for the office — but I think this Miranda boot fits the bill. I like the tiny buckle detail at the top, and it has a leather lining also. It's $298 at Zappos in black, brown, and "cognac." Frye Miranda Zip
Suede can be a great for boots (matte! comfortable!) but only if the suede is weatherproof. You can always take your chances with a spray, but La Canadienne guarantees their boots to be waterproof. I like that these boots also have a "technical microfiber lining" that is antibacterial and wicks away moisture, and a cushioned memory foam insole. They're $385 at Zappos. La Canadienne Malvern
Wow: despite the lack of a zipper, these boots are flying off the shelves — there are only lucky sizes left. I like the slightly looser shaft and ankle look, and the leather looks super soft. They're $595 at Zappos, Bloomingdale's, ShopBop, and Loeffler Randall (where they at least have a wait list for the sold out sizes). Loeffler Randall Viola
Like this feature? Check out other recent installments!