Nov. 2019 Update: We still stand by this advice on what to wear to a holiday office party, and we've updated choices for each category! You may also want to check out all of our other posts on holiday business etiquette.
Here's a fun question: what to wear to an holiday office party? We have six ideas below, all great whether it's for your holiday company party, your SO's office party, or some other holiday networking party. (We talked about holiday office party etiquette a few days ago!) As a general rule, pick two from the categories below and mix with regular workwear, unless you are 100% sure cocktail attire (or black tie!) is appropriate. A good clue: if the party is on a workday and all employees are invited (not just management types), take our suggestions here. As always, I suggest young businesswomen avoid showing cleavage, as well as what I'll call "unexpected" skin (think cutout dresses, etc). Even bare arms may not be appropriate — know your office!) You should also be wary of anything requiring a special bra.
We're shared some of our top picks for your holiday office party below…
Festive Blazer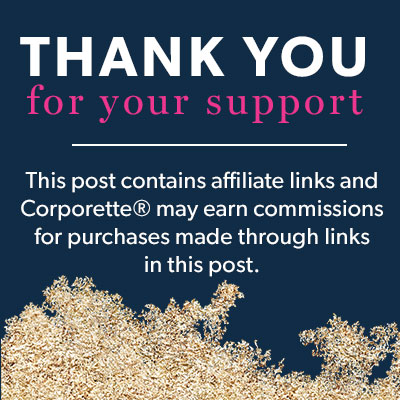 I've always loved a festive blazer. Not only can you maintain a maximum of professionalism, but I often find that a layered look is the best way to dress for the holiday office party: party blazer + statement necklace, or party blazer + bright work dress, for example. You can also use your festive blazer to extend the life of your weekend clothes and wear things that wouldn't normally be appropriate to wear to work. For example, a jumpsuit, a heavily sequined top, or even something like a leather skirt or a lace top that requires a strapless bra — all of these things look great beneath a festive blazer. You'll be surprised how often you wear it, and how many years you'll get wear out of it — your own holiday parties, your SO's holiday parties, vague networking events, even "desk to dinner" events where you really don't feel like donning a dress or anything sparkly. Personally I've always preferred the structure of a blazer, but a sparkly cardigan can also work here (like the red DKNY one pictured in Row 2 below; Lands' End has similar ones.) (2017 Update: Check out our latest roundup of the best winter blazers to wear to work!)
More Recent Picks for Festive Blazers (11/19 Update)
Some of our older picks are below, priced $74-$525:
ROW ONE: 1 / 2 / 3 / 4;
ROW TWO: 5 / 6 / 7 / 8
Party Skirts
A party skirt is one of the easiest things to find and wear, but be wary of spending too much money on it — it will be memorable, and because it kind of is your outfit, it's going to be hard to wear it again year after year. Keep the hem length appropriate for the office, and note that the fancier (and less office-appropriate) the skirt feels, the more subdued your top and shoes should be. Note that some skirts straddle the line between office and party, like this recently-featured skirt from Brooks Brothers (now on sale for $88!) — they're less festive, but more versatile (and you can pair them with something else sparkly on top).
Some Recent Picks for Party Skirts To Wear to Your Work Party
Some of our older picks are below, $54-$225: 1 /2 /3 /4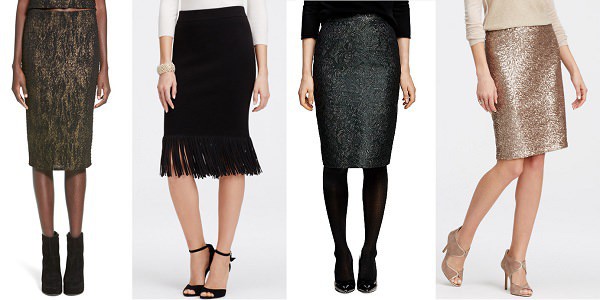 Selected Sequins, Lace, and Leather
Sequins, lace, and leather aren't usually office-appropriate — we've talked specifically about lace at the office and leather skirts at the office before. But when deciding what to wear to your office holiday party, you can break some of these rules, provided that you're not going all out. Example: a sweater with a few sequins on it, or even a sheer sequined camisole (worn with an opaque black camisole beneath it) are fine, particularly when paired with a festive blazer or fuzzy cardigan. But the all-sequin legging or all-sequin dress can be… well… a bit much for an office holiday party.
Recent Picks for Sequins, Lace and Leather To Wear to Your Work Party (11/19 Update)


Some of our older picks are below, priced $54-$328 —
ROW ONE: 1 /2 /3 /4
ROW TWO: 5 /6 /7 /8
Party Pants
Another great option: party pants. Paired with a regular work staple like a button-front or a cashmere sweater (ooh, or this DvF ballerina sweater), party pants are celebratory and happy, but not too crazy. Look for velvet, jacquard, limited sequins — and tuxedo pants or dramatically wide, flowy trousers can also be great for this kind of event. For my $.02, I'd avoid any pant that makes people wonder if they're actually seeing skin (such as black lace underlaid with a beige satin), and in general, be wary of leather and of too-tight leggings.
Recent Picks for Party Pants (11/19 Update)
Some of our older picks are below, $59-$1,658: 1 /2 /3 /4 /5 /6 /7 /8
Office-Appropriate Party Dress
For my money, this is the hardest one to get right. Sometimes a bright dress or blouse feels festive but will feel like a snoozefest at the party itself. Sometimes a lace dress will feel ladylike and elegant, but other times it may feel like you've unwittingly gotten dressed for a wedding when you just have a step up from what you would normally wear to work. A few notes in general: Watch your hem length, as well as cleavage. I wouldn't recommend a dress with bare shoulders (i.e., strapless) — layer it with something else like a cardigan or blazer, but if you end up taking that layer off, don't worry too much. Sometimes a party dress can be worn to work (like this Kate Spade one we featured a few weeks ago); sometimes that's going to be harder.
Recent Picks for Office-Appropriate Party Dresses (11/19 Update)
Some of our older picks below, priced $119-$248: 1 /2 /3 /4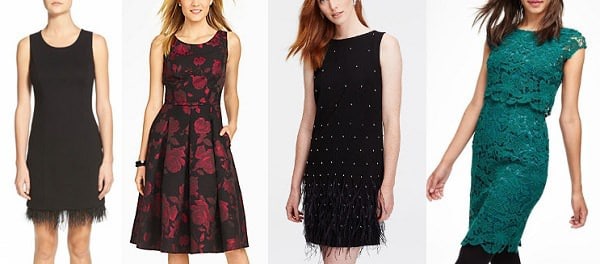 Desk to Party: Cocktail Jewelry
It's true, statement necklaces aren't as popular as they once were — but I still say there's nothing better for an office holiday party, and no better way to instantly jazz up a regular work dress or the like. Add one other thing from this list and you're golden.
Some Recent Picks for Cocktail Jewelry (11/19 Update)



Some of our original picks for cocktail jewelry, priced $175-$225: 1 / 2 / 3 / 4
How to Save on Holiday Party Attire
A general note: Rent the Runway is perfect for these kind of purchases, particularly if you have several parties to go to over a few days. (Or, hey, it's a perfect excuse to set up a date night or girls' night out if you don't have several parties.) Other great deals can be found at Nordstrom, Last Call, 6PM, and more.
Ladies, what are your favorite things to wear to office holiday parties? Have you seen any fashion gaffes with regard to office holiday party attire (or been victim to any gaffes yourself)?
In case it's helpful, here's a little cheat sheet for you, either to print or pin…