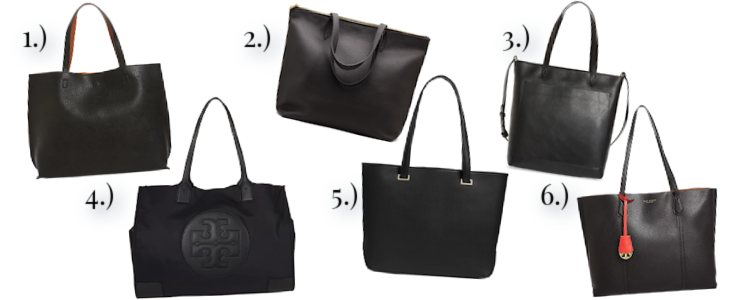 (Looking for a luxury work bag? Here's our latest roundup…)
Sure, we all know what basics professional women are supposed to have in their closets, but if you're buying one for the first time or replacing one you've worn into the ground, it can be a pain to find exactly the right incarnation in stores. In "The Hunt," we search the stores for a basic item that every woman should have.
I feel like a good black tote bag is something every professional woman needs — particularly if you're gearing up for interviews. They're large enough for a folder with your resume, as well as some reading or work (should you find yourself waiting or with some free time), and they're also great for stashing all of the items you generally carry in your purse. Readers, have you recently purchased any great black tote bags? Do you have a classic that you've been using for years?
The Latest Black Totes For Work That We Love!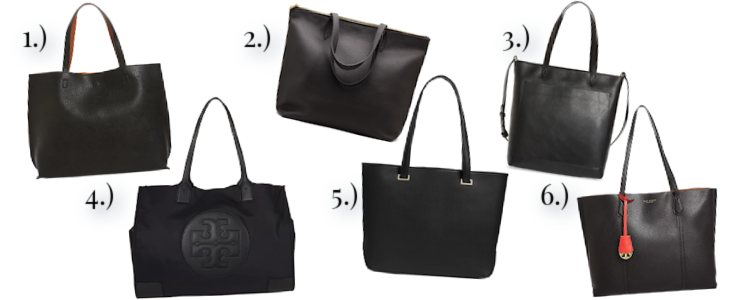 (Looking for a luxury work bag? Here's our latest roundup…)
Curious for other versions of this post? Here they are from 2021, 2018, 2017, 2016, 2014, 2014,  2013, 2012, 2011, and 2010).
Some of the bags we originally featured are below, but note that many are probably sold out by now, unfortunately!
$220 seems like a lot for a nylon bag, but I actually prefer nylon for tote bags because I think it wears better and is lighter weight. This is just a basic black bag, but I like the internal pockets (including one for your ipad and cell phone), and there are removable and repositionable interior dividers. I like it in black for work, but there are a number of fun colors marked 30% off which might be better for a general purpose "tote bag." The black is $220 at Mandarina Duck. Mandarina Duck Unexpected Shopper
Tumi is another brand I know and like, particularly for business bags for men and women. I like the leather and nylon combination of this one, as well as the little details like the feet on the bag and the interior pockets. It's $345 at Amazon. Tumi Voyageur Derby Business Tote
I'm actually most excited about this bag — it seems like ages since Kate Spade had a good nylon tote out. I like the hardware for a bit of interest, as well as the feet, interior pockets, and fun lining. It's $395 at Bloomingdale's. kate spade new york Nylon Maryanne Tote
I like the durability of patent leather for something like a tote bag — it's easy to clean and can generally take a lot of use. This East/West tote is simple and basic — I like the slim shoulder straps as well as the toggle closure. It's $475 at Bloomingdale's. Longchamp Roseau Patent East West Tote
Hello, lovah. This Fendi bag has me drooling — the pebbled leather! the contrast stitching! the three interior compartments! It's even on sale at Bluefly: was $2250, now marked to $1620 (including an extra 10% off). Lovely. Fendi black 'Roman' leather 'Selleria' medium tote
Readers, which black tote bags are you loving lately?
Like this feature? Check out other recent installments!