2020 Update: Check out our latest discussion on summer blazers.
Sure, we all know what basics professional women are supposed to have in their closets, but if you're buying one for the first time or replacing one you've worn into the ground, it can be a pain to find exactly the right incarnation in stores. In "The Hunt," we search the stores for a basic item that every woman should have.
I've gotten a few requests for suggestions for "lightweight blazers" for hot summer months, so I thought I'd round up a few for today's Hunt. For my $.02: if you're really going to be wearing a blazer outside or in another hot environment, linen is the way to go — it just breathes so well.
Hunting for lightweight blazers in linen and other fabrics? As of 2023, J.Crew's Parke blazer is available in linen, as is this super affordable Quince blazer. Along related lines (all machine washable!), check out Uniqlo's Airsense jacket (lightweight and stretchy), Madewell's Drapeweave line (lightweight and drapey) and Brooks Brothers' Soft Icons line (lightweight and drapey).
Silk is another good choice, but the tradeoff for all that, um, breathing (for both linen and silk) is the mad wrinkling that occurs. Cotton holds up much better (and I always think a cotton pique fabric looks pretty but professional, while a cotton seersucker can be classic) — if you can find a linen and cotton blend, or silk and cotton blend, that may be the holy grail.
Right now I'm seeing a lot of blazers with eyelet details — I honestly don't think they're appropriate for most conservative offices, but they can be another option if you're attending an outdoor event. Readers, what is your favorite type of blazer to wear on hot days? Do you have any tricks to keep linen or silk from wrinkling?
(I already featured this $88 Gibson blazer a few weeks ago, or I'd have included it in today's roundup…looks like it's available in different colors now, though.)
April 2023 Update: These are some of our latest favorite white blazers...
Pim + Larkin is a new brand to me, but I love the bright, saturated colors available for this linen/cotton/spandex blazer. It's available in marine (pictured above), tomato, lemon, and a light pink "nudetral" (pictured at right) in sizes XS-L, and there are matching skirts, dresses, and (sigh) Bermuda shorts. The blazer is $79 at Piperlime. Pim + Larkin Colette Blazer
Seersucker is pretty classic, and a lot of places have varieties on it — but I know readers have had success with Land's End Canvas in the past, so I thought I'd post this one. Although it does look cute with the dotted blouse, I'd probably keep my look more neutral for the office — maybe a white tee and a colorful skirt. It's $90, and available in sizes 0-14. Women's Seersucker Blazer
I haven't tried J.Jill clothes in a while, but this linen and cotton stretch jacket looks great. Do note that it's available in misses, petites, women's, and tall sizes, and in arugula (pictured), a chalky blue, a dark red, mushroom brown, and white. It's $99-$109 at J.Jill. Linen & Cotton Stretch Jacket
I think this silk and cotton tailored jacket looks gorgeous — but it is not returnable, so order carefully! The light gray color, the single button — classic. Was $348, now marked to $98 at Maxstudio.com (sizes 0-12). Silk & Cotton Tailored Jacket
Splendid has a number of cute blazers right now, which is interesting since I always think of them as primarily a t-shirt company (super soft ones, too). Still: this linen blazer (available in paprika, pictured, as well as white) is $148 at Splendid (and it seems to have sold out most other places it was available, so I'm guessing this one's a winner). It's $148 at Splendid, available in sizes XS-XL. Linen Blazer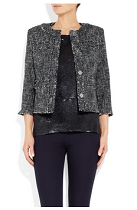 I can't wear boxier jackets like this, but if you can, this black and white print looks really versatile, and I really like the frayed trim. It's a cotton/linen blend, and available for $175 at Net-a-Porter. MICHAEL Michael Kors Cotton-blend tweed jacket
I feel like I've posted almost all of the Rag & Bone blazers available this season, and I gotta say I'm in love with this one, too! Linen-blend, lined, and I love the fitted, curved look. It's $495 at Nordstrom (in tangerine, sizes 2-10), and in black at Rag & Bone.
Like this feature? Check out other recent installments!
Workwear sales of note for 12.7.23
Our favorites are in bold!
Some of our latest posts here at Corporette…
And some of our latest threadjacks here at Corporette (reader questions and commentary) — see more here!