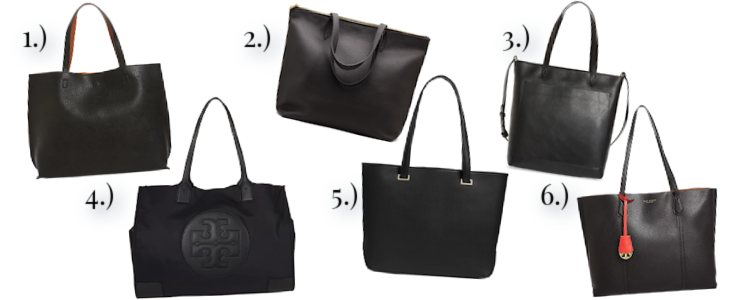 (Looking for a luxury work bag? Here's our latest roundup…)
I have a beloved nylon tote that was my go-to for interviews for a long time. It's super lightweight, nondescript, and has a simple pocket inside that's perfect for carrying a few pens and pencils. It is, alas, so "loved" that it's no longer really a professional thing to take around — the "leather" handles are peeling, there are threads poking out everywhere, and there's even some sort of big snag on the side.
In case other ladies are looking for a similar tote (either to replace a much-loved version or to buy one for interview season), I thought I'd share my hunt for a new, perfect nylon tote. My old tote dimensions, which I thought were perfect: 15″ wide, by 11.5″ high, by 3″ deep, with an 11″ shoulder drop.
Update: Our Latest Favorites for a Lightweight, Professional Tote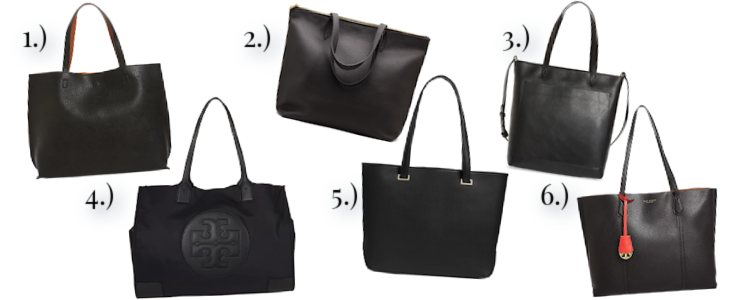 (Looking for a luxury work bag? Here's our latest roundup…)
As of Feb. 2023, some of our favorite luxury work bags for a splurge (large enough for work papers and sometimes even a laptop) are from Chanel, Louboutin, McQueen, Mulberry, MCM, Jimmy Choo, Ferragamo, and Strathberry. Of course, note that a lot of our readers who are in big jobs note that they love their (more affordable) Lo & Sons bags, as well as their Tumi.
Looking for work backpacks to splurge on? Montblanc, MCM and Senreve are great, and Valextra has some men's backpacks that look perfect.
Some of the below products may be sold out by now, but check out all of our latest favorites at the top of the post!
This one from Merona has a faux leather look to it, which isn't usually my thing — but for $29.99 it's hard to go wrong with it. I like that it includes a lot of interior organization — padded laptop pocket, cell phone pocket, and key ring holder — and I also like that it zips closed. The dimensions are pretty close to my old beloved favorite — 16″ wide, 12″ high, 4.75″ deep. It's $29.99 at Target. Merona Croco Work Tote – Black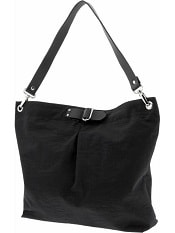 This bag looks a bit bigger than what I normally think of as an interview tote, but it still looks professional, and I like the fact that there's nothing "faux" about it. The reasonable price — $49.50 — doesn't hurt either. It's available in black, khaki and teal at Banana Republic.com. Banana Republic Nylon Buckle Tote
Is it bad that I don't care that this one says it's a diaper bag? It still looks like a great bag to me (and, though I have no experience with them, seems somewhat small for a diaper bag at 11″x14″x6″). Again, not a huge fan of the white-on-black stitching, but so it goes. It's $198 at Endless Amazon. Storksak Gigi Large Diaper Bag
Now the bags start to get expensive. I like the look of this one a lot, and particularly like the fun interior print. At 12.5″x17″x4″, it's a bit bigger than my old one, but that can be okay. It's available at Endless Amazon in black, forest, metallic brown, metallic copper, metallic olive, and "steel" for $219. Latico Candice Slim Porter
Readers, what do you look for in a lightweight, professional tote? Any great finds of late?