2018 Update: We still stand by this old discussion on snacking and dining at the office — but you may also want to check out our most recent roundup of 40+ snack ideas for work.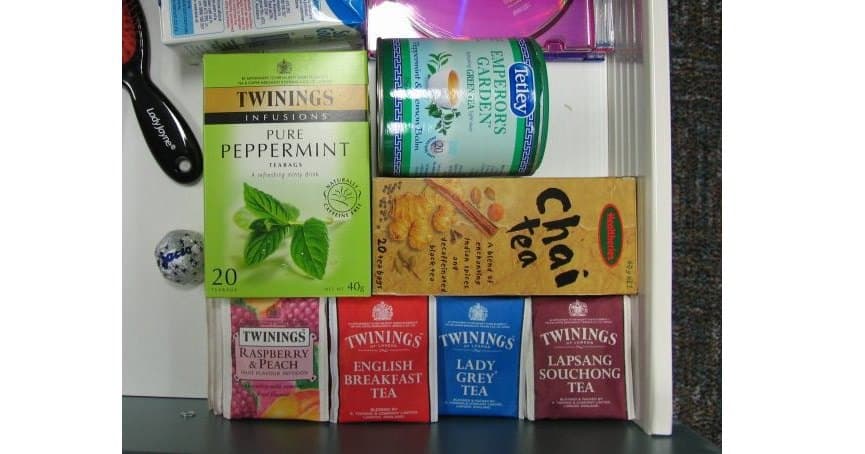 Last week we talked about
what clothes you keep at the office
… this week, let's talk about the food you keep in stock at the office!
(Pictured: Desk drawer tea-stash, originally uploaded to Flickr by Kratzy.)
Here's the thing about hectic, busy jobs, at least in my experience. Half the time, you're so busy you don't have time to go grab lunch. And when you're not busy, well, why prolong your time at the office by lingering over some long lunch unless it's with a friend (which requires scheduling, which may or may not be something your hectic work schedule allows you to do). So how's a busy woman to eat during the workday? My trick has always been to keep food at the office. When I was at my firm, I kept a whole banker's box full of snacks — it fit right in with all the other boxes of documents in my office! My list of must-haves has always included the following, which I would space out throughout the day in a series of snacks:
The Best Food for Snacking and Dining at the Office
Note that this list was written on the assumption that you do have ready access to hot water, but not necessarily a readily-accessible microwave or a refrigerator.
1. Peanut butter.
If this isn't a problem food for you (allergies, calories, etc), it's a great thing to keep around the office. Spread some on crackers like saltines, and you've got protein, fat, healthy oil, and you should stay satiated for at least a few hours. If portion control is a problem for you, you can keep things like PB2 Powdered Peanut Butter in your office and only make as much as you want.
2. Bars.
I highly recommend finding a a low-calorie, high-protein, high-fiber bar that you enjoy eating. Meal replacement bars (200 calories plus) never really seem to fill me up, and the low-protein bars — such as granola bars — are kind of like eating a cookie for lunch. My preferred picks: Gnu Foods bars (extremely high fiber and high protein for only about 130 caloreies), PowerBar Pria Bars (mint is particularly good), or, if you're really craving something dessert-like, the Glenny's 100-Calorie Brownie. Two other great choices that are super high fiber: Fiber One Bars and Fiberful bars (sold at Trader Joe's). 3.
Oatmeal.
This doesn't have the protein or fiber of a lot of the things recommended above, but it has a warm, cozy, filling feeling — and it's the closest a busy woman can get to comfort foods a lot of the time. It also smells wonderful. (Be sure to get a box of oatmeal that definitely only requires hot water.) 4.
Nuts.
Portion control can be a problem here, also, but if you can keep nuts around they really are a power food. Go for nuts that are as close to natural form as possible — avoid things that are roasted, salted, processed. Raw almonds have always been my favorite — they taste good but not SO good that I want to eat the entire bag. If portion control is really a problem, you may want to try pistachios or peanuts — in their shells. Everybody's Nuts! makes some great portion-controlled bags of pistachios. 5.
Instant noodles
. There are a ton of options for meals that can be heated by the microwave — from EasyMac to LeanCuisine — but it's harder to find ones that only require hot water to "cook." In general, these things won't fill you up, but they are a nice alternative to the bars and other things mentioned above. Trader Joe's has some great dry soup mixes that only require water; I've also had good luck with Thai Kitchen and Annie Chun's products. 6.
Raisins
. Dried fruits can be a bit too much like candy, which is why I like the old standards — raisins and dried plums. They may not be "sexy" fruits, but you can keep them in your bottom drawer and a handful from time to time will help you feel like you got your fruit in for the day.
7.
Emergen-C.
When your energy is dragging — or you feel a cold coming on — or you need some extra pep before heading out for dinner or drinks with friends, I swear by Emergen-C. These lemonade-like packets contain only about 5-25 calories, but pack a wallop of vitamin C — more than 1000% of your daily requirements. Just add water, and you're good to go. 8.
Canned tuna or salmon
. I highly recommend going to the office kitchen to drain the cans first and dispose of them (or else your office will smell of tuna for a week!) but with a packet of mustard or mayo mixed in, these healthy fishes are great eaten with crackers or by themselves. Of course, be sensible about
potential mercury poisoning
and don't eat them too often. (If you're unfamiliar with canned salmon, be sure to get cans that contain skinless and boneless salmon.) 9.
Cereal
. This is another great thing to keep at the office — either to keep a high-fiber cereal to mix into yogurt and oatmeal, like Fiber One — or to keep a favorite cereal from college or childhood, like Cap'n Crunch. Steal some milk from the fridge intended for coffee, and you've got a meal. 10.
Pudding.
It's a little-known trick, but if you bring in a box of Jell-O Instant Pudding, you can mix 1 heaping Tbsp with 1/2 cup skim milk, let it sit in the fridge for about 60 minutes, and enjoy a single portion of office-made fresh pudding. Is it a meal? Not really, but it is a dairy serving — and it's yummy.
Bonus Round: Refrigerated/Fresh Foods to Keep on Hand for Snacking and Dining at the Office:
1. Organic apples.
This is one of those fruits where it's allegedly worth it to pay for the organic version, but even if you just get the regular version, they're great to keep at your office. I've always liked to bring one with me each day and eat it for a late-morning snack before lunch. (Be sure to wash the apple well if you're not buying organic.)
2. Lemon juice.
I love a little lemon juice in my life — I use it to squeeze on salads (I swear, it makes every.single.dressing taste better and go farther with less dressing), as well as to add to water, hot water (particularly when I'm sick, I love hot water with lemon and honey), and to add to fish (canned or otherwise).
3. Cheese.
My all-time favorite is the light string cheese you can get at Trader Joe's — it's cheap, low calorie, and tastes the best to me compared with other string cheese. Still, almost any cheese is handy for a snack, though: those mini Babybels, a wedge of Laughing Cow cheese (which technically doesn't need to be refrigerated, but personally I find it a bit gross if it's not chilled)
4. Yogurt.
I always like to mix in Fiber One so I'm more satiated.
5. Vitatops.
These fiber-filled treats are great if you have access to a freezer at the office. (They have no preservatives, which is why they require freezing.)  They come to room temperature in about an hour, or else you can get a cup of hot water or tea and warm them up a lot quicker.
Alright ladies, let's hear it — what kind of foods do you keep in your desk drawers to nibble on throughout the day?
We are a participant in the Amazon Services LLC Associates Program, an affiliate advertising program designed to provide a means for us to earn fees by linking to Amazon.com and affiliated sites.