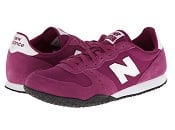 Something on your mind? Chat about it here.
Vintage-looking sneakers are a thing right now, and I've noticed a few bloggers wearing these classic New Balance kicks, in a lovely purple/white. (Hey, we all know I love a good purple shoe, right?) These seem fun, walkable, and just a bit hip — perfect for a weekend shoe. They're budget-friendly, too — $65, full price. New Balance Classics WL402
Readers, which are your favorite sneakers for the weekends?