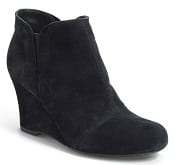 Something on your mind? Chat about it here.
Happy weekend, guys!  I'm lusting after these black wedge boots from  Børn — they seem like they'd be perfect to wear with black skinny jeans (or even, hey, those moto leggings I posted a while back), but also be good to wear with black tights and some of the flouncy skirts we've rounded up (either on the weekend or casual days at work).  They're $165 at Nordstrom.  Børn 'Faylan' Wedge Boot
Psst – check out last week's Open Thread for a flatter version, or for a wide-widths version I like these Munro booties.
P.P.S. I've started NROLFW after our discussion on lifting for women, and found a super helpful blogger with before and after pictures (and the weights she's lifting, listed). If you're worried about getting too big, take a look at her before and afters — and then look at her weights.  She's lifting serious weights and is showing no bulk at all — and she's been doing it for months now. Just thought I'd share!