Liking these posts? Follow us on Twitter or like us on Facebook — this is the edited version of what we're reading! (We also Tweet if we hear about a good sale through our CorporetteDeals Twitter feed.)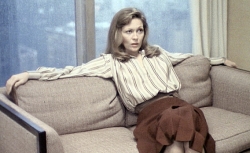 – Simon Doonan, writing for Slate, tackles the "what to wear to work" question (his answer: dress like Faye Dunaway in Network).
– Forbes talks beauty and business with Kathy Ireland — does beauty hurt you professionally?
– Above the Law talks about the benefits of alcohol for networking events. (One of the Corporette Facebook fans noted that my old trick of alternating a glass of wine with a Diet Coke is a faulty system because the "the carbon dioxide in the soda increases the amount of alcohol that goes into your blood, so you get drunk quicker."
– NPR looks at a new trend: helicopter parents in the workplace.  If your mom or dad is calling your boss (or worse, the person you interviewed with), you seriously need to have a conversation with them.
– US News & World Report looks at rights in the workplace.
– SavvySugar suggests 5 signs you're burned out.  Meanwhile, Working Mother has some suggestions for how to fight workday fatigue.
– Jezebel sings the praises of the slow cooker, one of my favorite tools for busy women. Meanwhile, WSJ's The Juggle talks about saving money by bringing your lunch to work, something we've talked about before.
– Lifehacker notes that if you boost your "working memory" you can focus better on tasks at hand, making time fly by.
– The New York Times has tips for avoiding baggage fees.
– Re: Corporette Tech Woes: I think we've got the "stack overflow" popup problem that IE7 and IE8 users were having fixed — please let me know if you're still getting it. I'm going to try to looking into the "posting too quickly" error, which I think is a separate issue. The mobile version of the blog should be up and running again also; please let me know if it isn't.  Thank you all for your patience and help with this.
Did we miss anything? Add 'em here, or send them to [email protected] Thank you!