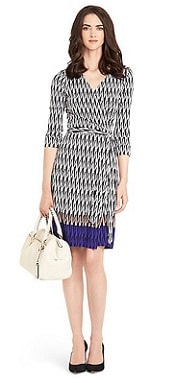 2017 Update: We still stand by this advice for the best weight fluctuation clothes, but you may also want to check out our more recent discussion of how to shop for clothes while losing weight.
What wardrobe items should you invest in if you're losing (or gaining) weight?  What clothes will fit even if you regularly fluctuate by 10-20 lbs?  Reader K is seeking weight fluctuation clothes:
I have a story idea; the work wardrobe for the weight fluctuator. Me and many of my friends bounce around by 10-20 lbs. It is expensive to buy everything in two sizes. I thought it would be helpful to do a post on the type and style of clothing to invest in if you want to have an office wardrobe that works when you're up or down.

For instance; I have a lot of wrap dresses as they are forgiving and flatter across a 15 lbs spectrum. Sheer blouses can be belted in at any weight. I own a lot of dresses as they can be belted in if I'm training for a half marathon or without a belt they're more forgiving after Christmas party season. I steer clear of non-stretch, and very fitted fabrics as they tend to look bad when too tight or too loose. I make sure to buy work pants with belt loops so that they're not falling down after an ugly breakup has left me without an appetite. A longer camisole with a blazer over it can hide if I can't do up the top button on my pants. Fitted work shirts can be paired with a camisole if the buttons won't close over an increased chest.
This is a fantastic question, and I'm so curious to see what readers will say — we've talked about when to give in and buy a larger size, as well as how to keep a working wardrobe while losing weight — but we haven't talked about this.  When I was younger I regularly fluctuated 10-20 lbs, generally in the same clothes — but when I was at my thinnest, I found that even a few pounds made my pants fit differently, so I knew pretty quickly when I was gaining.  Now that I'm heavier, of course I've said that I don't want to invest the money in a good wardrobe because I'll inevitably lose the weight (right? right!?) — but I've found that there are a few items that I can buy now that, for whatever reason, I can imagine being great even if I lose 10-20 pounds. So here's my list:
Wrap dresses.  This is a tried and true dieter classic.  If it helps, supposedly the "trick" to wearing DvF dresses is to buy them two sizes up (told to me by small friend in the know) — so if you buy your current size you'll still be able to wear it for a few sizes below. (Pictured: New Julian Two Silk Jersey Wrap Dress, new to the sale section at DvF.com — was $365, now $255.50.)
Knit blazers.  I'm a huge fan of the knit blazer in part because they will fit a range of sizes.  One of my favorites, an Iisli blazer I bought years ago at Barneys, fit me when I was a size 2, and I wore it all the way up to size 8.  My 35th birthday splurge for myself was a stretchy Armani blazer because I knew it would likely fit well even after I lost some weight.
Stuff with spandex.  This can be a blessing and a curse — the more spandex there is in an item, the more it will stretch (and, depending on how it's made, even reshrink again upon each washing).  I kind of blame my numerous washable pants for "helping" me gain weight during a rough patch in 2009 — the same pair of pants still fit from size 6 all the way up to size 12.  (Gap washable wool trousers, I'm looking at you!)
Elastic waists.  These are generally more Angela Landsbury than Anna Wintour (i.e., not that fashionable), but you can find some nicer knit skirts and the like that do have elastic waists.
Jersey dresses.  I'm putting this last because often, the stretchier a dress is, the clingier it is — and never in the right places.  That said, if you're fine with Spanx (or a heavier underlayer), these can be great.
Of course, some clothing is so cheap it can practically be viewed as disposable — there are various political and cultural ramifications to shopping at super cheap stores, but on the less thinky side, I hate when clothes fall apart after one washing, and I hate having a closet jam-packed of cheap clothes (or worse, taking a bag piled high with cheap clothes to Goodwill, where I know there won't be much use for them).
One final note: I've said it before, I'll say it again: don't neglect your underpinnings.  If you're gaining or losing weight, the odds are good that your bra size is changing.  If you're gaining weight, keep a critical eye out for what I'll delicately call "quad boob" effect (where your bra cuts into the top your breasts, making it look like you have four breasts), as well as spillage over (on the sides, in the back) and under — all of this can be noticeable even when you're dressed, and it doesn't look good.  Even if things look ok, gaining weight can stress your bras more than usual — I consider one or two new bras every six to nine months a a worthy splurge.
Readers, do you have weight fluctuation clothes? Is weight fluctuation an issue for you with your work wardrobe?