It can feel like a hard-fought victory to lose weight — but buying a new wardrobe for every size on the way can be an expensive habit! So how can you look stylish and put together while your weight is fluctuating? Reader K wonders how to shop for clothes while losing weight…
I'm in a male-dominated business casual office. I am getting ready to start positioning myself for a promotion and want to up my dressing game this summer. I've lost 40 pounds (yay me!!) and want to lose another 30. I'd appreciate any advice on managing a transitional wardrobe as I lose weight. I'd like to watch my spending before I hit my goal, but also look pulled-together and not be frumpy. Bonus for ideas that work well in a pretty hot part of the country!
Great question, Reader K, and CONGRATS on your huge accomplishment! We haven't talked about how to step up your wardrobe for a promotion OR about favorite weight fluctuation clothes in a while, and I can't wait to hear what readers say. For now, here are some thoughts for you:
How to Shop for Clothes While Losing Weight
Make sure you have at least one bra that fits you at every size.
Bras can be expensive, but foundational garments make a huge difference in general appearance! We just discussed our favorite lingerie for office looks last week.
Psst: these are all the best-selling bras that readers love as of 2020!

Look for items with a lot of stretch.
A number of the budget-friendly interview suits we just rounded up had a ton of stretch, including Express and Talbots — similarly, a lot of our favorite blazers under $50 have a knit/stretch component. A ton of our lightweight pants for summer also have a ton of stretch.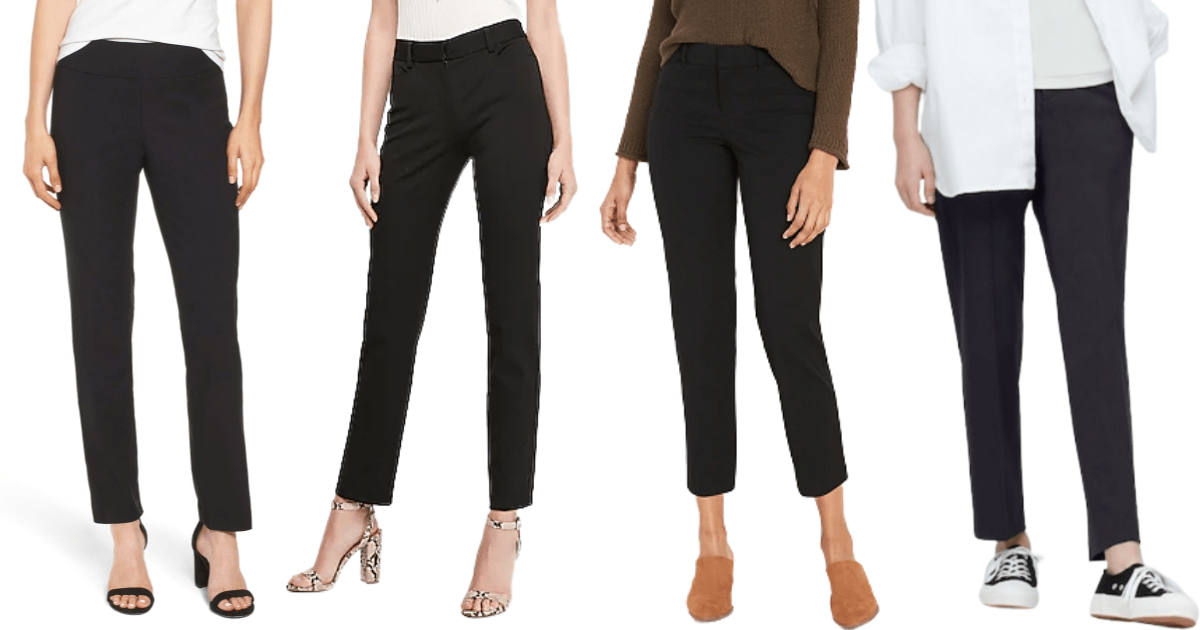 Some of our favorite lightweight summer pants, above: Nic & Zoe / Express / Old Navy / Uniqlo
This post contains affiliate links and Corporette® may earn commissions for purchases made through links in this post. For more details see here. Thank you so much for your support!
(Curious what to wear beneath wrap dresses? Our favorite underpinnings are here.) Shift dresses and A-line dresses are another great look that should fit, even if they're a size larger than you're wearing now.
Look for these signs for when to retire or tailor a piece that may be too big:
Hems are dragging on the ground or permanently turning up.
Skirts are turning around on you entirely.
Armholes are gaping and showing your bra (although this may be a simple fix for the tailor depending on the garment; stop in and ask!).
Non-drapey fabrics (particularly lined ones) are draping.
You know your career, weight loss schedule, and budget the best — but I will encourage you to resist the impulse to shop exclusively at fast-fashion chains and instead look to secondhand or consignment stores to reduce the financial impact of your quickly changing wardrobe.
(You may find better quality stuff there anyway that will be worth it to you to take to the tailor for alterations!) Depending on your size range, you may also want to look into a clothes rental subscription at a spot like Gwynnie Bee, Le Tote, or even Rent the Runway.
Readers: What advice would you give Reader K about how to shop for clothes while losing weight? What are your best tips in general for what to wear to work when you're losing weight, or what to wear if you're looking for a promotion?
Picture via Stencil.