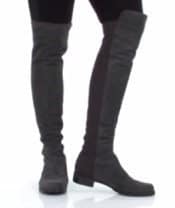 While doing our round-up of knee-high boots, I was struck by how things have changed in such a short time — when I first started this blog, knee-high boots were still pretty scandalous, and over-the-knee boots (or OTK boots) were completely, totally risqué.
Cut to today, and they're EVERYWHERE — flat versions, high-heeled versions, on most best seller lists, with rave reviews from everyone from 20-somethings to 60-somethings. I know Jean at ExtraPetite has talked about wearing her 5050s for the commute, but I thought it might be interesting to have a poll: are over the knee boots so omnipresent that you can wear them to work?
(Pictured: Screenshot of the Stuart Weitzman 5050 from Zappos, where they're $635; they're also at Nordstrom for the same. Here are a few under-$200 alternatives.)
This post contains affiliate links and Corporette® may earn commissions for purchases made through links in this post. For more details see here. Thank you so much for your support!
As always, you have to know the specifics of YOUR office. But because a poll can be fun, I thought we'd have this in two flavors: one poll for folks working in conservative offices, and one folks for the women in business casual offices. Just for ease of discussion, let's define a "conservative office" as one where, on any given day, 30% or more of your coworkers are in suits.

Ladies, what are your thoughts on over- the-knee boots at the office — would you wear them to work?