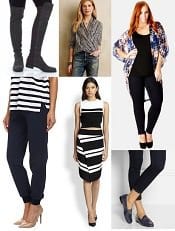 2019 Update: Check out our latest discussion on the 2019 fashion trends we hate.
What trends can a younger woman safely wear to work? You don't want to dress too "old" — but you also doesn't want to appear too trendy and/or in styles that are inappropriate for workwear. How do you find a balance so that you look professional without feeling like you're wearing someone else's clothes? Reader K wonders…
Would you be interested in doing a feature directed at the youngest of your audience? 23-26yo females? This would be regarding the interface between young/trendy and office appropriate. While a lot of the items TPS features are great-looking, I can also see a way in which it might be premature for a younger demographic to be shopping in those styles. I would like to look dignified, for example, but not necessarily older than I am.
This is a great question. The conservative office is all about the classic, chic look — you will always be well served to have a crisp white blouse, a simple sheath dress, a pair of great pumps, and a well-tailored blazer and matching skirt and pants. That said, there do exist trends within those relatively narrow boundaries, and THOSE are the trends that I think you can experiment with, without too much fear that they make you look inappropriate. So let's dig in.
First, let's define the kind of trend we're NOT talking about for a conservative office:
It is never body baring (that crop top will have to wait for the weekend). It never exposes skin (or makes someone else worried it's suddenly going to). It is not reminiscent of the boudoir in any way (so I really don't like lace for the office, for example). So even though I've seen some killer dresses with bared backs lately (I mean, c'mon!) I'd stay away from them for work. Also — I have seen kimonos listed in the same category as blazers on store websites, and I haven't been able to figure out how I feel about them — but I think they go in the inspired-by-the-boudoir category for work.
It can be a "new look" — as long as it's been around for about five years. For example, over the knee boots have only been a big thing for a year or two (unless you are actually a pirate), and the track pant trend is way too new for the office. Be particularly wary of thinking something is OK for work just because a brand that you normally associate with work attire is selling it. I was at a party recently and a young, cool female partner was griping to me about having to reprimand younger associates about track pants. "I don't care that they're Theory," she quipped. (Also on her list of no-nos: the top knot.)
It never defies logic. The peep toe bootie, the hi-low dress, the jumpsuit, the culotte… no, no, no, no. If you work in fashion, great; wear harem pants and kimonos with a crop top and go to town — but if you work in law or for a bank, it is perhaps ill advised.
So here are the kinds of trends that we're actually talking about being acceptable for work, then (although, of course, KNOW YOUR OFFICE):
Colorblocking — it's been a big trend for a few years now and continues to be strong
Colors — for example, the color of the year is Marsala
Collarless blazers are more modern than classic blazers (see the Theory suit we were discussing yesterday)Peplum (this detail on blazers, blouses, and even dresses has been super hot for a few years now)
Fit and flare dresses
I'm seeing a trend for mesh, which I think is more inspired by the activewear trend and not lingerie — approach with caution, but I think it can be all right, as in this dress
Any trend inspired by menswear is usually OK — e.g., oxfords, loafers, the gingham that's everywhere right now (I love this drapey gingham blouse)…
Pictured below, clockwise: OTK boots, gingham blouse, kimono, loafers, crop top, track pants.
If you think I'm crazy, check out some of the comments on posts where we've talked about fairly mild trends like braids, ankle pants, or even our recent post on the crossbody bag. Another post that may be helpful to you as you weigh these issues: our discussion on "empowering clothes" vs. dressing for power.
Readers, what are your thoughts — what trends are acceptable for a conservative office? Do you agree with my rough breakdown?