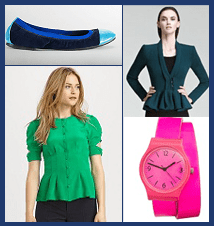 2016 Update: Check out our latest discussion on trends to NOT wear to work, here.
I thought a fun conversation today might be about trends — specifically, about which trends you're completely, totally, "why won't it go away?" over. Obviously, there are a ton of trends that filter through to business clothes — neon accessories (which do look kind of great with gray dresses), peplums, boldly patterned "party pants," colorblocking, cut-out details, and more — but for purposes of today's discussion, let's broaden it to any trend. For my $.02, I'm sick of:
Peep-toe booties — they just do not make sense to me and my New York/Midwestern sensibilities! They're way too hot for the summer, and if it's snowing or raining the last thing I want to be wearing is peep toes.
Hi-low dresses. This trend's only been around for half a second but I'm already over it.
Cropped shirts. See above. Can't we just leave the cropped shirts in the early '90s, where they belong?
Short suits. I think they're cute for socialites and other ladies who lunch, but they just confuse everyone else who thinks they're appropriate for the office.
Daytime sequins. No. Just… no.
Ladies, what trends are you sick of? Are there any used-to-be-a-trend-now-it's-just-a-modern-look (like skinny jeans or extremely strappy sandals) that you've accepted the longer they've been around?