Here's a mini-update of some fabulous white tops for work as of April 2022!

Hunting for opaque white t-shirts for work? As of 2023, we'd suggest checking the double layer lines from Boden, Express, and Hobbs, as well as great sources for basic Pima cotton such as LL Bean, Uniqlo, Everlane, and Talbots. (This $268 tee also gets great reviews for opacity, and Elizabeth swears by this tee under $30!)
As of 2023, the best spots to check for nude-for-you undergarments are Gap, Old Navy, or Nubian Skin for tons of options – Victoria's Secret also has a bunch!
Sure, we all know what basics professional women are supposed to have in their closets, but if you're buying one for the first time or replacing one you've worn into the ground, it can be a pain to find exactly the right incarnation in stores. In "The Hunt," we search the stores for a basic item that every woman should have.
I would guess that 60% of my closet — if not more — is black. White appears far less frequently — but even I love to herald the beginning of spring by buying a few new white tops every year, and (if they've held up well enough), pulling out old favorites from previous years.
The white blouse, of course, is a classic — but sometimes you want something that isn't quite as fussy or as formal as a blouse with collars or buttons.

(If you're on the hunt for a basic button-front blouse, a silky collared blouse, or a basic tee or shell to wear beneath a suit, check out our latest roundups on those topics.)
I never know what to call these items (tops? shirts? white non-blouses?) but I do think they're something that makes every outfit more versatile — and can be an easy way to take your more formal suits away from the dreaded "I've got a secret interview today" territory. Of course I am on #teamwhitecamisole as well, but that's me…
In my mind, white tops break down into basic general categories, which I'll lay out below…. I'll note at the outset that a lot of these tops come in colors other than white, which show the details FAR better than the white versions, at least online. In fact, the very fact that there IS a white option may be hidden because the color doesn't show up against your screen — so use the dropdown color picker menu if in doubt (screenshot of what I mean here).
The Slightly Fancy White Tee
These shirts — usually in jersey or some other t-shirt like material — have a few great details that elevate them from your basic white t-shirt. The details are usually near the neck — but sometimes also down the back or at the hem; the material may also be different or nicer in some way than your usual t-shirt.
Pro: these can be easy to care for, and if you have fit problems because of your bust/waist ratio, these can be easier to wear than a button-front shirt.
Cons: opacity can be a problem, and some details (like a sheer shoulder like the lace one below) may give you pause for your office or wardrobe.
(For my $.02 I think they look lovely as a layering piece, particularly beneath a blazer – I just layer a camisole beneath them and a regular nude-for-me bra.)
The Blouse Tee
These tops are shaped like a tee (and are usually pullovers), but usually made from a blousy material. They can look nice and crisp, but can be high maintenance (e.g., required dry cleaning or ironing). They also can cross into the "too informal" category pretty easily.
As of 2022, some of our favorite blousy tees for work include: 1) Halogen 2) Vince Camuto 3) Quince and 4) Milumia. Also check this one from Amazon, as well as these silk ones from Cuyana, Tucker,* Club Monaco, and Lilysilk.
The White Knit Short-Sleeved Sweater
These can be difficult to find online — so when you see them in the store at places like Ann Taylor or Banana Republic, do stock up! Pros: they're definitely fancier than a t-shirt material, and sometimes more opaque (be on the safe side here and wear a camisole and nude-for-you bra the first time, though). Cons: they may need extra care in the laundry, or they may fade or look "dirty" too soon.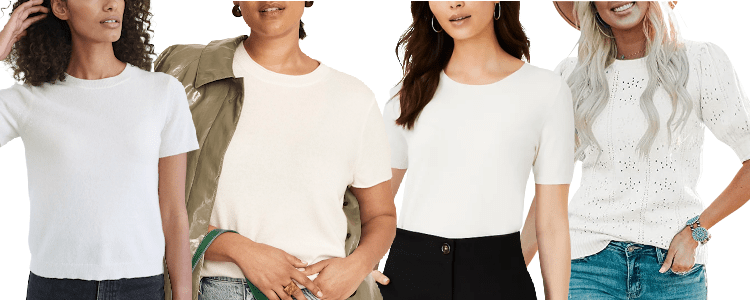 The Non-Blousy Blouse
I normally think of a blouse as having buttons and/or a collar — these tops lack that, but they definitely still feel like a blouse in formality, usually because of their material. These can be a more modern option, as well as being easier to fit if gaping is a problem… but they can be harder to care for and be more sheer.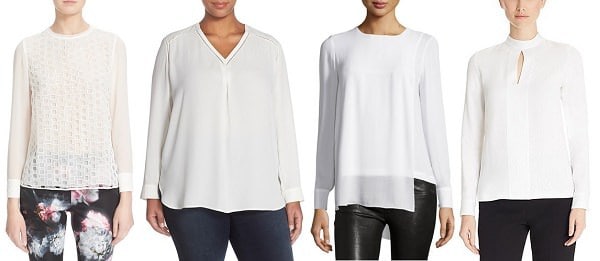 The Casual/Feminine Blouse
These are blouses that may have buttons up the front and/or a collar — but there's something about it that makes it more feminine, such as a burnout pattern (like the polka dots below), a peplum detail, eyelet/lace, a wrap effect, or an unusual fabric (like the jersey one we featured a while ago from Anne Fontaine). If you work in a very conservative office and are striving to add more feminine details to your workwear, start here because it's hard to go wrong (beyond wrinkles/sheerness/etc) — for all but the most formal of occasions they're appropriate, and an easy, chic addition to your wardrobe that goes with everything else.
Stay tuned for a roundup of feminine blouses! General brands to look at include CeCe, 1.State, and Sézanne (very affordable!), as well as L'Agence, Rebecca Taylor, Ted Baker, Club Monaco, Alice & Olivia, ASTR the Label, and Anne Fontaine.
The White Shell
This can be a huge category — or a very narrow one if going sleeveless isn't appropriate at your office. To be honest, unless you wear a lot of cardigans or washable blazers, I'd avoid these tops in general — I always think it's better to wear a sleeved layer beneath a blazer, if only to make trips to the dry cleaner more minimal (not only is it expensive, but it can be really hard on clothes too).
I think they can work best with cardigans because you don't get that line on your arm where your sleeve ends — but if you're going for bang for your buck, I'd stick with sleeved options.
Some of our latest favorites are above; meanwhile, here are some of our general favorites for sleeveless tops…
This is a huge category (and this was a big of a runaway post!) — but what categories am I missing? What white tops do you need in your wardrobe, or have proven themselves to be real workhorses? How do you guys like to make your work outfits more springlike?
This post contains affiliate links and Corporette® may earn commissions for purchases made through links in this post. For more details see here. Thank you so much for your support!