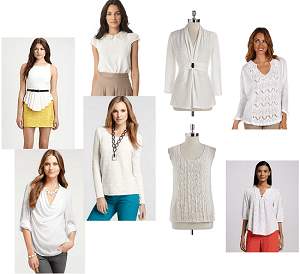 2016 Update: I still stand by the below advice on where to look for professional white shirts, but you can also see our latest discussion on the seven kinds of white tops you need for work.
How can you find basic, solid shirts that are just a teensy bit different and easy to care for — particularly in simple colors like black and white? Reader S wonders…
You've done lots of reviews about what shirts to wear to work (I love "The Hunt"), but I cannot find anything directly addressing the topic white shirts. What white shirts do people wear to work? I'm not thinking of button-down blouses. I'm talking about white short sleeve or long sleeve pieces that are not too sheer, launder well, look a little more interesting than totally boring. I'd love to see a round up and hear readers' thoughts. I have one nice one from XCVI, but am looking for a new one and want some ideas.
We actually have done Hunts for white blouses before, but I thought this would be an interesting discussion because I totally know what Reader S is getting at: that basic shirt that isn't a t-shirt, isn't a button-down, is just a little bit different, and ends up being a total workhorse in your wardrobe. Honestly, I celebrate whenever I find one (and try to post it if I can!) because I think these really are huge saviors in women's wardrobes. But: they're almost impossible to find in an online search. Here's the best tips that I can give:
– Know the brands that have done "fancy/simple tops" that you've liked in the past, and then use an online tool like Shopstyle (type in the brand name, then sort by "tops") to see the offerings — a quick search on a few brands turned up a lot of possibly great tops, depending on your office and personal style. For example quick searches on some of the brands I've had in the past turned up: Alice + Olivia, Ann Taylor, Rafaella, and Design History. Reader S mentions the brand XCVI; that turned up a few quick candidates as well.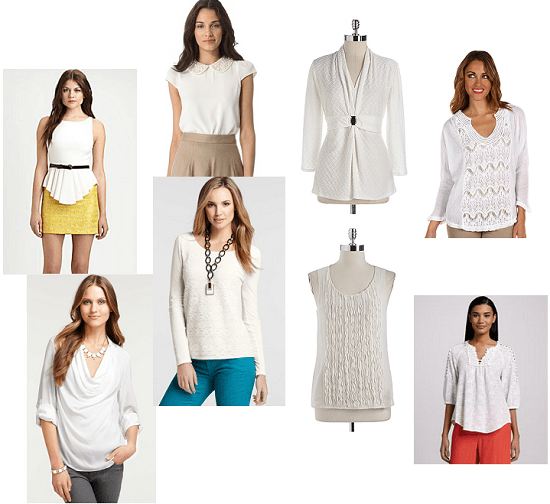 – If you have a particular store that you love, keep running searches on that store's website.  For example, if you feel like the buyer at Nordstrom continually hits it out of the park, go to Nordstrom and sort by Women's Clothing –> Tops –> White and Off White (this link should take you to the results of that search).
– Retreat to very simple basics (the simple t-shirt to wear under suits, for example) and add necklaces, brooches, or scarves to punch it up a bit.
Whatever you do, I highly recommend you stick to white camisoles beneath white tops if there's any hint of sheerness.
Readers, have you recently bought any black or white blouses that don't quite fall into the "blouse" or "t-shirt" category?  Do you agree with Reader S and myself that they're great wardrobe basics?  How do you find them when it's time to re-stock your wardrobe?