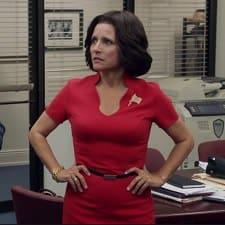 What are your favorite TV shows for work fashion, ladies? Are there any fictional characters who repeatedly have the perfect look for work? I'm starting to think about another series of posts that looks at the best-dressed fictional TV women and ponders how to steal their look.
Probably not their exact look down to the exact dress and shoes, because other sites do that, but more like general style notes and tips. I've already got Selina Meyer of Veep on the schedule for late April, and I'm debating between Claire Underwood and Jackie Sharp when House of Cards premieres later in May — what other TV shows are you watching where you love the work clothes?
Which TV shows feature the best work fashion? Any plus-size characters (or, heck, any medium-size characters) you'd love to include? Any interest in including not-in-our-timeline characters like the lady politician, Chrisjen Avasarala, in The Expanse? (Here's a link to the actress's IMDB page with lots of pictures.)
Another question: Is there interest in expanding the series to women IRL like news anchors and/or politicians, or is that too LadyPockets? I will note that I'm not very interested in snarking on real women IRL because they have other things to think about beyond their clothes, whereas with fictional characters, the clothes are part of the way of telling the story — but this series is intended to be a more positive take on our old 360 Review series.
So let's hear it, ladies — which are the best work fashion TV shows?
Update! You can see our posts on how to dress like Selina Meyer as well as how to get Claire Underwood style.