After a ton of reader requests, we've been rounding up some of the top things readers have bought recently — so here are some of the most-purchased items from October 2022!
(Admin note: we've changed the format of this post! In the current iteration, we're just focusing on the list of top-bought items only and then a few of the more interesting, trendy pieces instead of the pieces that are also high on the list. At the same time, we've renewed our "How to Build a Work Wardrobe At ___" series, focusing on the reader favorites from each individual store, since there really are a lot of clear winners from looking at the data.) We'll also try to add in some store-specific, trendy items that readers bought a lot of last month.)
See the whole series here. We've tried to note in the text where an item is in our Workwear Hall of Fame, as well as whether it's on sale!
This post contains affiliate links and Corporette® may earn commissions for purchases made through links in this post. For more details see here. Thank you so much for your support!
We are a participant in the Amazon Services LLC Associates Program, an affiliate advertising program designed to provide a means for us to earn fees by linking to Amazon.com and affiliated sites.
Pictured at top: blouse* / coat* / dress / sweater blazer / turtleneck* (*lots of prints and colors)
Top 10 Things Readers Bought in October 2022, By The Numbers
Trendy Workwear Finds of Note Bought in October 2022
We're going to round up some of the store-specific things readers bought last month below, but sometimes things are interesting in their own right… those are below.
Karen Scott Shawl Sweater – down to $20 today and available in regular, petite, and plus sizes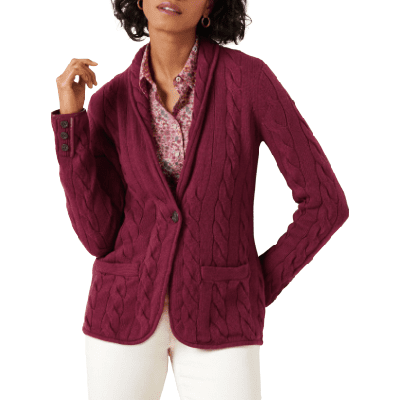 Talbots' Sweater Blazer (regular, petite, and plus sizes) (featured in our recent roundup of the best sweater jackets for the office)
Chaus Flutter Sleeve Blouse (featured in our roundup of stylish blouses for work)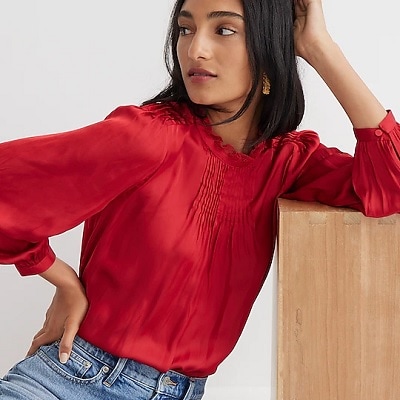 J.Crew's Ruffle-neck Drapey Top
Sam Edelman Wool Coat (one of the reader favorite coats for work) (pictured)
Old Navy Waist-Defined Flutter Sleeve Midi Wrap Dress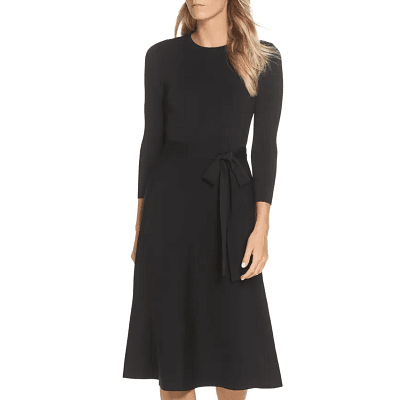 Eliza J Fit and Flare Sweater Dress (one of our favorite fit and flare work dresses for work) (pictured)
Hugo Boss Dirusa Sheath Dress (one of our favorite sheath dresses for work)
Kohl's Contrast Dot Fit & Flare Sweater Dress
Grace Karin Tweed Pencil Dress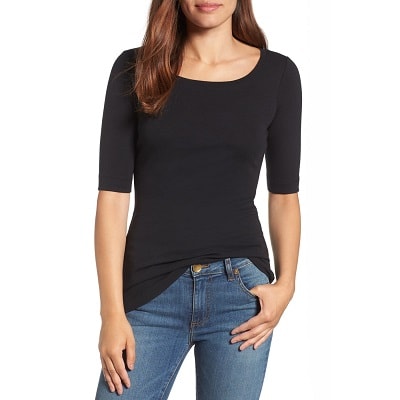 Caslon Ballet-Sleeve Tee (one of our favorite t-shirts for layering at the office)
Alina Mae Over-Bump Pregnancy Casual Capris for Work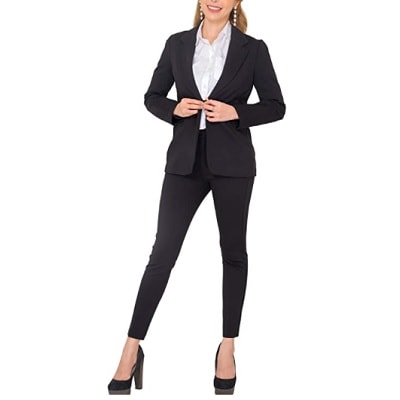 Marycrafts Pant Suit Set for Work
Fishers Finery Ecofabric Short Sleeve Tee (note that this is one of Elizabeth's favorite low cost clothing basics, and she calls it her "ride or die" tee when she wants an opaque white tee!) (find it in relaxed, classic, scoop, and crew neck cuts)
Uniqlo U Crew Neck Short-Sleeve Top
Ettika Hoops (exact ones pictured now sold out, but they have so many other cute and affordable hoops)
What Readers Loved Last Month at Specific Workwear Stores
Things Readers Bought Last Month at Amazon
In addition to the reader-favorite stalwarts we covered in our post on what to buy at Amazon for work outfits, these were some of the Amazon workwear finds they bought last month.
In October 2022, there was lots of love for this opaque white tee, these two vintage-style dresses, this blazer, this tweed work dress (under $50!), this cardigan jacket, these work pants (in tons of sizes and lengths), these sleeveless blouses from Milumia, Calvin Klein, and Anne Klein, as well as lots of products featured in our post on DIY options for gaping blouses.

Things Readers Bought Last Month at Ann Taylor
In addition to the reader-favorite stalwarts we covered in our post on what to buy for work at Ann Taylor, these were some of the additional Ann Taylor workwear finds readers bought last month.
There was lots of love in October 2022 for the high-waist side zip pants, the short-sleeve sweater, the seamed pencil skirt, and the shawl collar wrap top. More favorites below:

Things Readers Bought Last Month at J.Crew
In addition to the reader-favorite stalwarts we covered in our post on what to buy for work at J.Crew, these were some of the additional J.Crew finds the readers loved last month…
More specific favorites from October 2022:
There was lots of love for their sweater blazers (Eloise & Cecile), this tissue turtleneck, this drapey top, and this "perfect" t-shirt. As always readers love these two blazers and these two