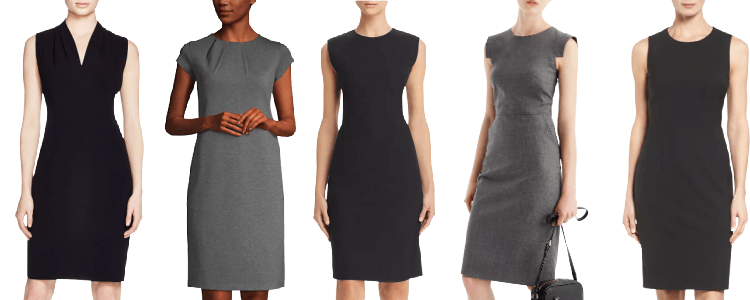 Sure, we all know what wardrobe essentials for work professional women are supposed to have in their closets, but if you're buying one for the first time or replacing one you've worn into the ground, it can be a pain to find exactly the right incarnation in stores. In "The Hunt," we search the stores for a basic item that every woman should have.
This page was last updated September 2023 except where otherwise noted.
We haven't been on a Hunt for sheath dresses in far too long, readers, so let's discuss — what are you looking for in a sheath dress this year? (What shoes will you wear it with? If you've mastered the tricky flats + sheath dress look, please chime in!)
I'm sure everyone is thinking, "There is NO WAY I am wearing a sheath dress again — leggings and pants for the win!" Still, the sheath dress is such a crazy easy outfit — and affords such instant polish — it's really hard to see it going away anytime soon.
There definitely seems to be movement among the stalwarts making sheath dresses, though — M.M.LaFleur looks like it might be phasing out their Annie dress (currently on a killer sale!), and Boden has added huge external pockets to this year's version of the Ottoman dress, which has been a reader favorite through the various iterations.
Even Theory, which has sold the Betty dress for approximately 10,000 years, seems to be transitioning to their (new to me) "Classic Power Dress," which looks (to me) identical to the Betty but retails for about $100 more.
Before we start today's Hunt, here are some of the classic, reader-favorite, Hall of Famers: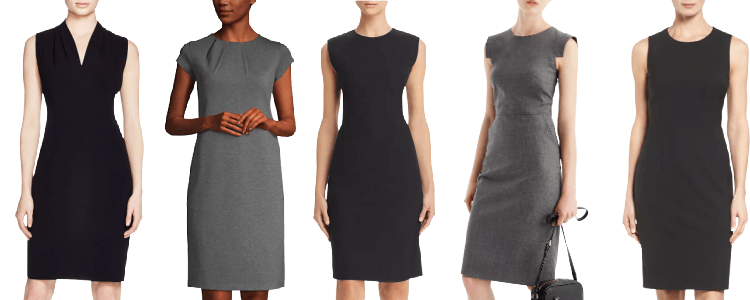 This post contains affiliate links and Corporette® may earn commissions for purchases made through links in this post. For more details see here. Thank you so much for your support!
Some categories of note: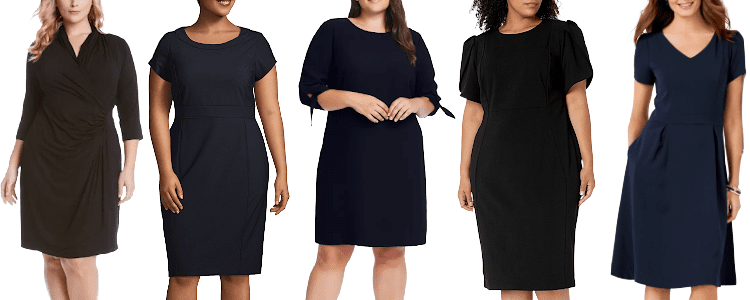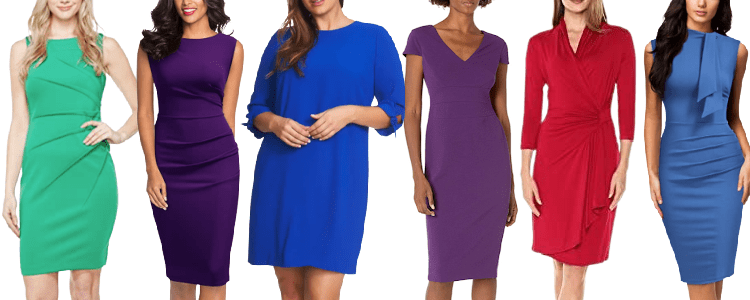 Old Navy usually has a ponte sheath dress, but the product page changes, as does the inventory — still, it's one of our favorite options if you're looking for a budget option. This one is $39.99, available in four colors, XS–XXL in regular and tall sizes.
Other great options for budget-friendly, stylish sheath dresses for work (all under $125!) include Lands' End, Tahari, Donna Morgan, Apt. 9, M.M.LaFleur (on sale), and Anne Klein.
There used to be a Facebook group for lawyer moms (it's currently archived, alas), but a lottttt of women were singing the praises of this dress from MUXXN for work, and on Amazon it has 13,500 great reviews. For my $.02, I'd recommend sizing up — but I love that it comes in a zillion colors, is only $30, and comes in sizes S–3X. (It's important to note that the fabric is a bit more like a polyester T-shirt than a thick ponte — but I love looking at all the real women sharing pictures of themselves in the dress.)
If you're hunting for other colorful sheath dresses for work, some other great options right now include Donna Morgan, Calvin Klein, MMLF, Of Mercer, and Boden.
I'm not sure if M.M.LaFleur is phasing out their Annie dress or not — there are extremely limited sizes and colors left right now on a killer sale for $75. This has been a reader favorite over the years, and as speaking as someone who never looks good in high, crew-necked dresses, it's so rare to find a perfect V-neck. (I also like the slight A-line to the skirt.) The dress is machine washable, dry cleanable, and available (again, lucky sizes only) in 0P–3X.
Other good options for stylish sheath dresses for work from M.M.LaFleur: the Etsuko, the Aditi, the Sarah, and the Cynthia.
Other smaller manufacturers to check out include Of Mercer, Universal Standard, Nora Gardner, Gravitas, Maven, Wallis Evera (eco-friendly), and Ministry of Supply.
Universal Standard has a number of nice dresses, including its bestselling Mary dress. For my $.02, I'd get it hemmed to just below (or at) the knee. (The dress does not come in tall sizes, but I put it on the list for tall sizes (at top) because one of the models wearing it is 5'11 and it still comes to below her knees.)
Universal Standard, if you don't know, does this great thing where they show you models wearing the dress in your size, so you can see a variety of models wearing sizes 6–3X. If you worry that your weight is in flux, they also have a great thing called "Fit Liberty," which includes at least one of the dresses (although not the one pictured); if your size changes within the year you can exchange the dress for another one in its size.
Other nice options for stylish sheath dresses for work in plus sizes include J.Crew, Of Mercer, Lands' End, Calvin Klein, and M.M.LaFleur.
If you're looking for a timeless sheath dress that's a bit of a splurge, this St. John dress has been around for a zillion years in their classic Milano knit, described as a "dense, wool-blend" (50% viscose, "dry clean") that "maintains its shape and offers near-seasonless wearability." Nice! At $795, it's one of the pricier options — reviewers note that it runs large, and as many readers have noted, you can often find great deals on St. John at resale sites and during big Nordstrom sales.
Other great options for a splurge include Theory, Hugo Boss, and Black Halo (their Jackie dress is still going strong after 10+ years, and I swear Nordstrom just brought it back to their product catalog.)
Curious for past roundups of sheath dresses? Here they are from 2019, 2018, 2017, 2016, 2015, 2014, 2013, 2012, and 2011. Stay tuned for an update to our post on bespoke dresses — I'd love to hear in general if you guys have any favorites for custom-tailored clothing!
Like this feature? Check out other recent installments!
We are a participant in the Amazon Services LLC Associates Program, an affiliate advertising program designed to provide a means for us to earn fees by linking to Amazon.com and affiliated sites.