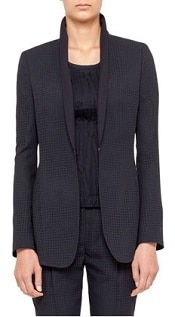 Our daily TPS reports suggest one piece of work-appropriate attire in a range of prices. This week's TPS guest poster is the author of one of our top posts ever on Corporette: advice from the hiring manager/vp level. (She's also guest posted on what you might miss about the intense job once you're gone.) A big welcome back to the very stylish Lisa from Privilege! – Kat
This week I'll be focused on what to wear to the casual office, particularly when you're an executive or manager and want to project a little authority. And, because the last time I wrote here about something I didn't know, you all rightly eviscerated me, I'm also going to focus on the specific casual offices found in San Francisco Internet companies.
This is a specialized niche, but one that generates a lot of revenue and career opportunities. One foggy day, you in more traditional service offices — the lawyers, the investment bankers, the accountants — may find yourselves in our world.
So, the Monday Splurge? Same in tech as anywhere, go for the killer jacket. Of course, here you'll be wearing it with jeans, but still. Take this blazer by Akris Punto, my current favorite very high-end line. Navy? Check. Classic shape? Check. Super cool perforations and a great length for skinny jeans? Check. It's even on sale at Neiman's in multiple sizes, marked down from $1590 to $954. Akris Punto Perforated Jacket
Seen a great piece you'd like to recommend? Please e-mail [email protected]