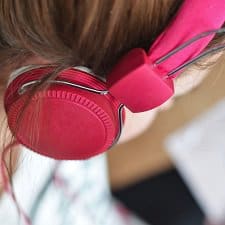 2020 Update: We still love a lot of these older podcasts for professionals, but you may want to check out our most recent discussion of the best podcasts for smart women.
Readers, which are your favorite podcasts? What do you think are the best podcasts for professionals — the ones you recommend to friends, bosses, and colleagues? Do you think there are any particularly great podcasts for professional women?
It's been a while since we discussed podcasts for working women (it was the year after Serial's first season, in fact!), and because new ones are being created all the time, we thought it was time to post an open thread! And here's a side topic for our general discussion: Have you noticed that it can be hard to find women-hosted and/or women-centered podcasts? Do you actively seek them out? Do you have some to recommend to other readers? Here's an interesting (but not surprising) statistic from The Economist: "In America, men host 63 of the top 100 podcasts on their own, while only 13 are hosted by women and the rest by mixed teams. In Britain, 58 of the top 100 podcasts were hosted by men, compared to 12 hosted by women." By the way, are there any readers out there who make their own podcasts?
Last time we talked about this, these were some of the readers' favorites:
So, tell us: What are your favorite podcasts lately? Which do you think are the best podcasts for professionals? Do you prefer to listen to podcasts for fun and entertainment, to learn something, to hear political or social commentary or keep up with the news, to get career advice/inspiration, or something else? Which podcasts do you think are underrated or overrated? Do you tend to listen to podcasts while exercising, commuting, cleaning the house, or (if you're an expert multitasker) while working?
Picture via Stencil.