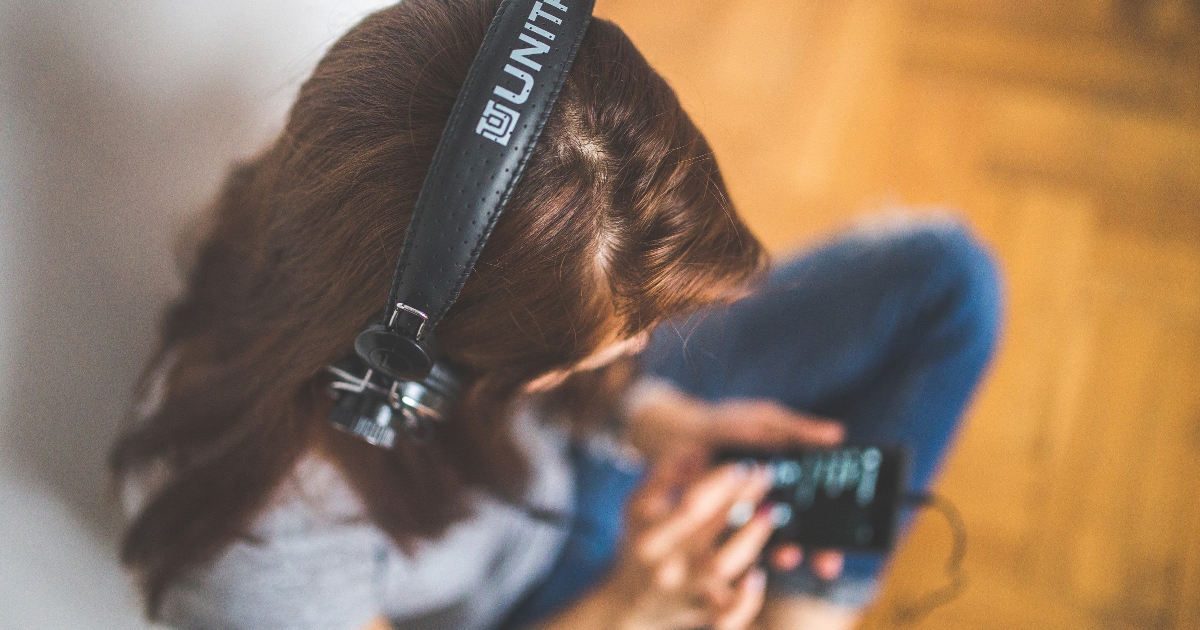 We haven't had an open thread on favorite podcasts in a looong time (well, 2017 and 2015, but for podcasts that seems crazy long), so let's discuss. What do you think are the best podcasts for smart women? (Another Q: how much are you listening to podcasts now that your commuting time is significantly reduced due to coronavirus pauses and quarantines?)
Personally, I tend to listen to podcasts mostly while walking or driving (I usually prefer to read if I'm taking public transportation), but I just found a great time to listen to podcasts or other audio: while I'm playing my stupid iPad game at night! (Delicious World, if you must know. Siiiigh.) I also sometimes listen to podcasts or audio classes while making dinner or cleaning. A lot of the ones I listen to mostly swing between educational, self-care, parenting, and just pure silliness — so don't look for career/professional advice too much here.
(I've often thought of doing a podcast for Corporette, maybe with Auntie M as my wingwoman — maybe alternating answering reader questions with talking about some of the usual things we talk about here. Would there be any reader interest in that?)
2021 update: here's the latest reader discussion about podcasts for smart women…
Kat's Favorite Podcasts She Recommends for Smart Women
Anyway, some of my truly dorky podcasts that I like are:
Throughline, by NPR — this is about as educational as it gets with me. They'll take an issue and look at the history of a topic, and it's so fascinating. So, for example, to look at the opioid epidemic they explained how morphine and heroin have been handled through history.
Fated Mates — I started listening because one of my favorite romance authors (Sarah MacLean) (affiliate link) was reviewing books by another of my favorite romance authors (Kresley Cole and her Immortals After Dark series), but the show has grown past the IAD series and now looks at a ton of great romance books. I can't tell you how many good reads I've found through MacLean and her cohost, romance critic Jen Prokop. And it's great to think about how romance books (and heroines) have changed through the years — kind of like taking a gender studies class through the lens of romance books. Yes please. 
Losing 100 Lbs. with Corinne Crabtree — I don't have 100 lbs. to lose, thankfully, but this is a great podcast in general if you want plain talk (lots of swearing!) about weight loss, binges, control, and more from a woman who has lost 100 lbs. I liked her podcasts so much I signed up for her program, so I mostly listen to member-only podcasts from her now.
TiLT Parenting — I kind of suck at reading parenting books, but I've found that when there's one I want to read, the author has been interviewed on this podcast — and it's more of a fun, easy introduction to a subject.
Articles from The Atlantic — The Atlantic sometimes has audio versions of their articles, and if I hear friends and/or readers talking about a very long one I'll sometimes try to listen to it while making dinner or playing my game.
Online classes I listen to periodically — I've paid for all of these, but there's an audio component that I'll try to listen or re-listen to when I get a chance: Marie Forleo's B-School, Elite Blog Academy by Ruth Soukup, as well as a few courses from Amy Porterfield and the guys at Yoast. 
Free online business podcasts I should listen to more because they're really good: Internet Business Mastery, Glambition Radio with Ali Brown, Build Your Tribe with Chalene Johnson, This is Your Life by Michael Hyatt, How I Built This by NPR
Political podcasts that are too good not to mention (but I've been taking a break for a year plus at this point): Trump, INC. by WNYC Studios (so good!), Why is This Happening with Chris Hayes, Gaslit Nation. NOT a podcast, but when I'm up to it I'll try to listen to the audio of Rachel Maddow (available for free the next day, or live via TuneInRadio, for those of you who've cut the cord). 
Kate's Favorite Podcasts for Smart Women
I asked Kate what her favorites were, and these were her notes…
Reply All — This is one of my favorite podcasts, and I highly recommend it! The tagline used to be "A podcast about the internet," but the topics have gone beyond that, and there's a nice blend of serious, investigative reporting and funny, silly subjects (with lots of contagious laughter) among the episodes. Here's a good one to start with: The Case of the Missing Hit.
Pop Culture Happy Hour — The hosts and their occasional guests have great conversations about movies, TV, music, and more, with a nice combination of fun chats, strong opinions, and cultural criticism.
Science Vs — The podcast's own description is a good summary: "Science Vs takes on fads, trends, and the opinionated mob to find out what's fact, what's not, and what's somewhere in between." Topics have included everything from consumer DNA tests to the history of forced sterilization to the death of President Garfield. (Lately, they've been covering coronavirus.)
How I Built This — I really love the interviews with entrepreneurs (mostly well-known ones) that Guy Raz does in this podcast. I never get tired of hearing how people built their businesses from nothing and made them a success.
Random coronavirus podcasts — Yeah, as if I don't already talk, think, write, and read enough about COVID-19, sometimes I listen to podcasts about it, too. (Sigh.) If you're like this too, I recommend Coronavirus Daily and Six Feet Apart (both hosted by journalists), and America Dissected: Coronavirus (hosted by a doctor who is a former city health commissioner),
Past favorites that I haven't listened to lately but would definitely recommend: This American Life, Welcome to Night Vale, Fresh Air, Thirst Aid Kit
Podcasts I've heard great things about but haven't tried yet: Wind of Change, Catch and Kill, Hidden Brain, Invisibila, Mom and Dad Are Fighting, Yo, Is This Racist?, Lovett or Leave It, The Wilderness
Let's hear from you guys — what are the best podcasts for smart women in 2020 — the ones you recommend to your friends and family?