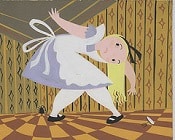 We're curious what the readers have to say about today's reader mail:
This is embarrassing, but I've been fighting a losing battle with my weight for a while now.  Before the holidays, I had about a week and a half"s worth of clothes that still fit.  After the holidays I'm now down to a few pairs of pants and a very stretchy skirt. I wore a summer dress (t-shirt material!) the other day because it was the only thing that fit and was clean!!  Should I just give up and go buy new clothes?  I don't have any major meetings or suit-wearing things coming up, and the only person at work who sees me on a daily basis is my secretary.
Eeeesh, we hear you, sister — the holidays were not kind to us either.  For our $.02, you're treading on thin water with such a limited wardrobe — even if no one sees you regularly, we feel like people will start to notice.  Besides, it's always more professional (and flattering!) to wear clothes that fit, rather than stuff yourself into clothes that are too small.  But in terms of whether you have to give up the ghost and go buy new clothes… our answer to your question depends on a number of factors.