I can't believe I'm about to write these words, but they're true: I'm getting into tea.
For years I have resisted tea, hating the "bitey" taste of green tea, and not seeing the appeal in black tea. The closest I came to "liking tea" was either with fruity blends of crushed/dried flowers and fruits (without any tea leaves in there) or "sick tea," which is just hot water with honey and lemon.
But then I started reading about rooibos tea as a wine replacement on random Reddit threads from people looking to moderate their drinking, and I thought, huh, I guess I'll give it a try. And much to my surprise, I liked it — it didn't have the bite from green tea, it didn't taste like warm jello like a bad fruit blend, and it didn't require a fresh lemon. It's just a warm, comforting, drink.
Finally! I thought. I get it! (By the way, I think I'm giving up wine for 2017 (but not liquor or beer); I can write more on this if you guys want.) Back to teas for busy women — the whole experience made me realize that there's a much bigger world to tea than just green and black tea.
So, today I thought we'd go through a few quick benefits of different teas, but I'd love to hear from you, readers — Do you drink tea? What kind of teas do you like best, and what purpose do they fill in your life? Do you drink tea to replace wine, or wake you up, or calm you down? Do you like the routine or ritual associated with teas? Which type, brand or blend is your favorite? 
Psst: stay tuned for some of my favorite teas!
This post contains affiliate links and Corporette® may earn commissions for purchases made through links in this post. For more details see here. Thank you so much for your support!
What to drink to replace wine or for an afternoon routine: I have no idea why, but rooibos was recommended by a few places I looked on the Internet. It also has a lot of other supposed health benefits, including improving blood circulation, promoting healthy hair, being anti-inflammatory, and more.
I also like that it's caffeine free, and requires a long steeping time (5-7 minutes), so if you tend to get distracted the way I do, you're OK if you leave the bag in too long. (According to this Eat This, Not That article it's also supposed to curb hunger, but I feel like drinking any big glass of liquid before dinner will do that.)
What to drink for tummy trouble: I've long sworn by peppermint tea when my tummy doesn't feel good (other benefit: it makes your office smell nice!), but I have a new favorite: this Lemon & Ginger tea from Yogi Blends. There is a serious difference, though — I've always found peppermint tea soothing if my tummy isn't feeling well, whereas the lemon & ginger tea tends to sort of be like a kick in the gut.
What to drink to wake up in the morning: I have no plans to give up my two cups of coffee in the morning, but if you can stomach it, this is obviously where green tea excels. Another friend swears by his Yerba Mate, which is supposed to give you a smoother boost of energy in the morning.
What to drink to calm you down at night: I happily drink my rooibos tea at night as well (so far so good), but I've heard awesome things about this caramel tea. And of course, there's also the very popular line of Celestial Blends' Sleepytime Teas, which I've used from time to time in the past.
When I was nursing, I drank raspberry leaf tea on the advice of my lactation consultant to help boost my supply — it's also supposed to be great for relieving menstrual pain. When I was weaning and my hormones were going crazy, I drank nettle tea on the same woman's recommendation.
Ladies, what do you recommend as the best teas for busy women? Do you have a favorite tea — and what do you view its purpose as being?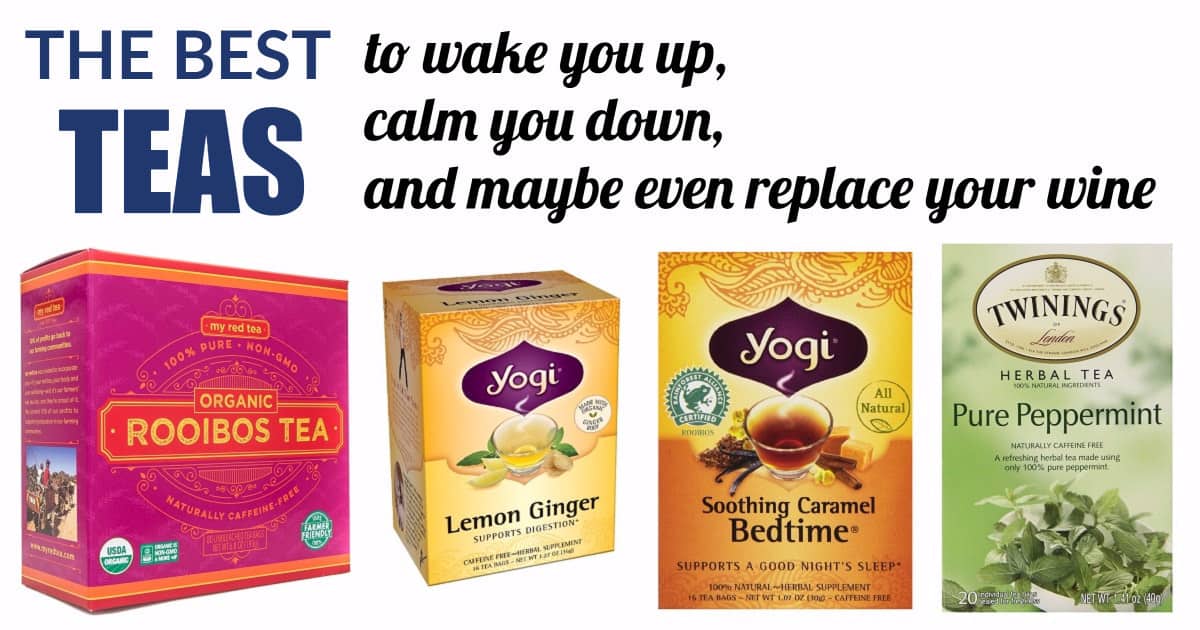 We are a participant in the Amazon Services LLC Associates Program, an affiliate advertising program designed to provide a means for us to earn fees by linking to Amazon.com and affiliated sites.