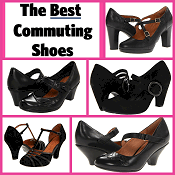 2018 Update: A reader requested an update to the best commuting shoes — so here's a link to the best commuting shoes in 2018! See more of our thoughts on commuting to work. 
What are your favorite shoes for walking to work?  Reader J wonders what the best commuting shoes are…
Can you do a post on commuting shoes? I always change into my heels at work, and I need help finding a pair of comfortable (but cute) shoes to wear on the subway/walk to work. I'm curious what shoes other readers wear on their commute.
Great question, J!  We've talked about how some women commute in wedges, as well as taken polls on whether toning shoes are appropriate for a commute, but while I've mentioned "commuting shoes" a lot, I don't think we've ever had a post devoted to my own perfect version of commuting shoes.  Here are the factors I've always looked for in commuting shoes:
– A comfortable shoe, obviously.  For me this almost always meant it had to have straps or a vamp — Mary Janes, T-straps, oxfords, boots…
– A shoe that would maintain the hem length of my pants.  When I worked in BigLaw, most of the pumps I wore around the office were at least 3″ — in order to avoid having my hems drag on the ground when I commuted then I needed shoes that were at least 2.5″ high.  I also kept kitten heels in the office (1″ or so) and had a few pairs of pants hemmed for those so I could wear flats on some days, as well.
– A shoe that would blend with my outfit and my general style, in case I was seen on my way into or out of the office, or pulled into a meeting just upon arrival.  In other words, no white sneakers or brightly colored Crocs for me, please!
While flats or boots are easy to find, the 3," strappy, cute-but-comfy shoe can be difficult to find, so I've rounded up a few that are available these days (most pictured above):
Readers, what do you commute to work in?  What factors do you look for when considering one — what do you consider the best commuting shoes?