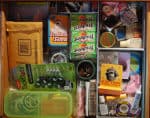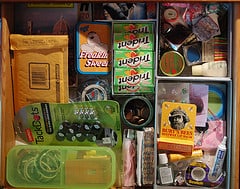 What toiletries do you keep in your desk drawer? We've talked about
the clothes you keep in the office
,
the food you nibble on during the workday
, and
the tech stuff you have to have for the office
— but what about toiletries? I have such an established list that, when my brother started his new job, I gave him a little bag filled with these items — they're helpful for everyone!
(Pictured: junk drawer #1, my middle desk drawer, originally uploaded to Flickr by zeelicious.)
1. New-Skin.
Yes, it's an electronic world, but there are still far more papers to deal with than you'd think — which means papercuts abound — which means every open wound increases your chances of getting sick. My preferred method for dealing with papercuts is to apply a liquid bandage like New-Skin. It dries quickly, stays on all day (even after you've washed your hands), and it doesn't leave that gummy residue on your nails and fingers.
2.
Purell
. This is another great way to ward off colds — and it's particularly helpful to keep at your desk if you commute to work via public transportation (you can clean your hands the minute you get to the office), or if you shake hands with a lot of people during the course of your job. If you get one with aloe, it won't dry your hands out as much. (And, someone recently gave me the tip that alcohol-based cleaners (
like Purell
) are a
much better habit
than antibacterial ones (such as the richly scented ones available at some mall stores). Of course, regular soap and water is best.
3. Thermometer
. The higher up the food chain you go, the more you'll find that
a little head cold is not an acceptable reason to stay away from the office if work needs to be done in it
. That said, it's generally poor form to come to work (or stay at work) if you're contagious. Obviously you've got a thermometer at home to know when you're running a fever — but it can be helpful to have one at the office for those occasional stretches where you're practically living at the office, or where you suddenly feel lousy in the middle of the afternoon. I've always done well with a digital one, like the
Vicks Comfort-Flex Thermometer
. (If you really want to get fancy, get a temporal artery thermometer, such as
Exergen Temporal Artery Thermometer
, available at Amazon for around $30 — you swipe it across your forehead and get a very accurate reading. The new mom in me loves it.)
4. Preservative-free eye drops.
Long hours of staring at the computer = dry eyes. For some women this is a particular problem. My suggestion: invest in preservative-free drops. If you use the drops only occasionally, then you'll be happy to open up a new vial of eye drops. If you use them frequently, you'll be glad you're not overloading your eyes with preservatives. I recommend
TheraTears Lubricant Eye Drops, Single-Use Containers
.
5. Visine, Clearasil, and cover-up.
Yes, I'm recommending you get both
Visine
and preservative-free eye drops (because while Visine gets the red out, it can be incredibly drying for your eyes). So use the preservative-free eye drops to soothe your eyes (and possibly fix the underlying problem causing the redness). Still:  Visine can be handy in a number of situations, such as when you've been crying and need to freshen up, and when you want your bloodshot eyes to look better (such as for a big meeting or a new date). My other use for Visine:  if you have an angry red zit, dab a bit of Visine on a Q-tip (or a tissue wrapped around a pencil's eraser) and use it to make your zit a bit less red. (I also recommend keeping Clearasil and cover-up on hand.)
6. Floss.
You probably won't use this one a lot, but you'll thank me that rare time when you do use it — like when you've got something in your teeth and have to run to a partner's or executive's office. My favorite is
Glide
. (Although in a pinch,
tape flags and folded Post-It Notes work
as well.)
7. Eye-makeup remover
. There are a lot of reasons for keeping eye-makeup remover with you in the office. Personally, I've always used it on those those nights where you're stuck in the office in front of the computer for hours on end. Maybe it's just me, but 16+ hours of wearing mascara makes my eyes feel, well, crunchy. Another big reason for having eye-makeup remover: occasionally, emotions may screw up your eye-makeup. Whether you're crying for joy, sorrow, or frustration or anger (and hopefully you're doing this behind closed doors), your eye makeup may need to be redone entirely in order to "save face" when you stick your head out of your office. I'm a fan of
Neutrogena Hydrating Eye Makeup Remover
.
8. Advil
. Just give in to the idea that you'll likely be at the office when you get a lot of headaches/cramps/aches, and invest in an economy-size bottle.
9. Tampons and/or pads.
10. Basic make-up
(if you don't already carry it in your purse). On the rare day that you can get to the gym, or when you walk to work, or when you need to re-do your makeup, you'll be set.
Readers, what toiletries do you keep on hand at the office?