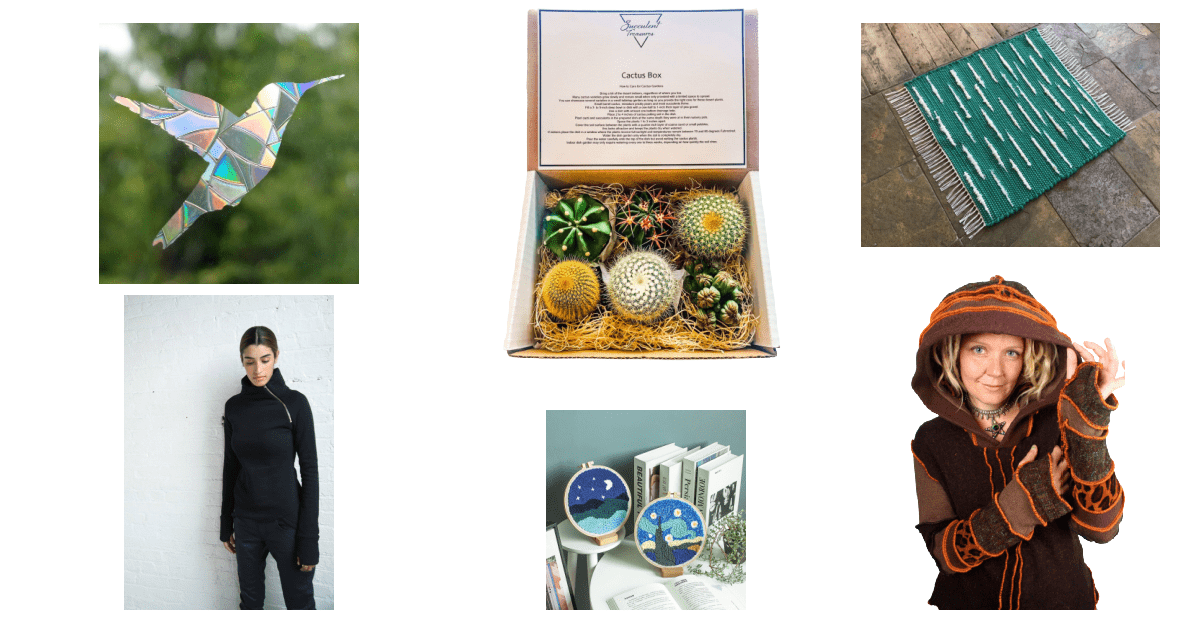 What are your favorite Etsy shops for gift ideas, ladies? Where have you bought great stuff — and where are you just ogling? We've rounded up some favorites from Corporette staffers (including our new CorporetteMoms writer Ann!), but we'd love to hear from you!
Psst: We've looked at Etsy shops for workwear, as well as Etsy shops for gifts — but it's been a while!
Pictured above, clockwise: bird window cling / cactus gift box / rag rug / tutorial to make the brown hoodie / punch embroidery kit / minimalist zip-up sweater
This post contains affiliate links and Corporette® may earn commissions for purchases made through links in this post. For more details see here. Thank you so much for your support!
Etsy Shops Kat is Drooling Over
(UPDATE: I forgot about this amazing one Etsy seller who I highly recommend — Grace Personalized. I own a silver necklace created from one of my son's drawings, and it's amazing; I wear it all the time. My eldest went through a phase where he drew "bones" on everything (it just kind of looks like an X through an O), and so we found a good example and had it made into a necklace. She was really responsive and was great to work with. I could see doing it for artwork or even having a handwritten "I love you" or something similar turned into a necklace or bracelet, perhaps from a recently departed loved one.
I tend to buy a lot of affordable vintage jewelry off Etsy, so I'm not sure I'd recommend any shop in particular. Some of the ones I'm drooling over this year include:
Katwise: I think readers turned me on to the Katwise store years ago. Her sweaters sell out almost instantly, and I've never caught her store when they're actually in stock — but if you know any knitters, she sells her patterns year round!
Window Gem Studio: They make really cool window clings out of a light-refracting material in the shape of dragons and so forth. I'm pondering what to get for my boys.
Janish Jewels: I don't remember where I heard about this shop, but they're absolutely stunning modern jewelry designs. But they are on the pricier side.
Succulent Treasures: My mom really enjoys cacti, and this shop has a ton of affordable, beautiful little gift boxes.
RISETailorStudio: I've been eyeing some of their punch-embroidery kits for beginners (for myself).
MarcellaModa: I've been drooling over her minimal, modern clothes for years but haven't pulled the trigger on anything. Apparently her face masks were recently ranked as #2 by the WSJ, though, so maybe that will be my first purchase!
OrangeMagpieArt: Amazing paper artworks
TheSushiOwl: Adorable bead jewelry
Elisemade: Cute knitted items
Sheri Beryl: Love her jewelry!
(I'm also a big fan of Etsy for resources for digital journaling!)
Kate's Recommended Etsy Shops
Jewelry: I've bought a lot of jewelry from Etsy over the years (mostly for myself rather than for gifts, I'll admit!), and these are a few shops I would buy from again: SouthwestVintage (where I found a pair of awesome vintage turquoise studs that I wear all the time), SarahNoelMercantile, Q925Jewelry (the 925 refers to sterling silver, of course), turquoise studs (does what it says on the tin, but offers other items, too), and MerelaniDesigns (whose jewelry has been worn by characters in several TV series).
aimeekitty: This shop sells enamel pins that are perfect for gifts for people who are crafty and/or are cat fans and/or like fun pins in general. I bought this "Helper" pin ($12) earlier this year for a friend who sews and has two cats who "help" him, and I think the Pride and Prejudice ($12) and champagne & macarons ($10) pins would be fun gifts, too! This seller has a 5-star rating with a few thousand sales.
FourthWaveApparel: You can find gifts for your feminist, liberal-leaning, politically active friends and family members at this shop, which has a 5-star rating with 20,000 (!) sales. They sell shirts, throw pillows, tote bags, and more. I bought a great "Smash the Patriarchy" onesie for a friend's baby, and while it's not currently available, other onesies are. Here's a nice gift for a runner: a "Participant 261" t-shirt to honor Kathrine Switzer ($19.99 on sale).
TheWoodworkingShop: A few years ago, I bought a friend a nice spoon rest from this shop, which sells wooden cutting boards, trivets, spoons, bowls, and more, and has a 5-star rating with hundreds of sales. The cutting boards are made from salvaged lumber from a nearby furniture maker, and the aspen items are from a local sustainable forest. This beautiful cutting board is made from recycled oak, walnut, purpleheart, etc., and is $38 (free shipping).
Ann's Recommended Etsy Shops
Vermont Rug Farm: Handmade rag rugs from Vermont
SewWhatFun: Personalized kids' aprons (not currently available, but there are many personalized Christmas stockings and ornaments!)
Garbella: Screenprinted shirts, kitchen towels, tote bags, and more
Reader Recommendations for Etsy Shops
Michelle Armas: This Atlanta-based shop is a reader favorite and has a 4.5-star rating with 1,500 sales. All of the artist's prints of her original paintings, which are colorful and abstract, are $75 and up, depending on size and material. I like this print of Yeah I Know We Would Be So Great Together.
Readers, do tell: What are your favorite Etsy shops for gifts and beyond in 2020? Which Etsy shops have you actually purchased something from, and which are just on your wish list or idea list?