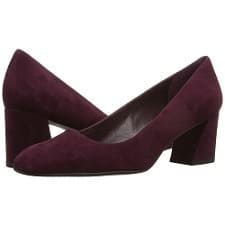 Grandma pumps: yea or nay? They're everywhere this fall, and if you're looking for an on-trend quality pair that is also comfortable, Weitzman has long been a favorite of readers for just those reasons.  Besides, you know I love a purple pump. These are available at Zappos and Amazon for $375; they also come in black and taupe suede, as well as a black leather. Stuart Weitzman Mary
These shoes are similar, only $109-$119, come in nine colors — and in several colors are down to lucky sizes!
Check out our Guide to Comfortable Heels for other reader favorite brands!