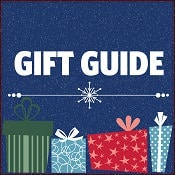 2017 Update: We still think these are some great gift ideas for guys, but you may also want to check out our latest gift ideas for professionals.
Whether it's your boyfriend, husband, father, brother, or friend, guys always seem impossible to buy for.
These are some of my favorite gifts (and gift categories) for guys — which are yours?
Don't forget to check out our full list of suggestions for
guy gifts
at our Pinterest board (which we will continue to add stuff too). Looking for a
gift for your mom
, MIL, or mom-like mentor? Check out yesterday's
list
and our
board of mom gift ideas
. (See the full details after the jump…)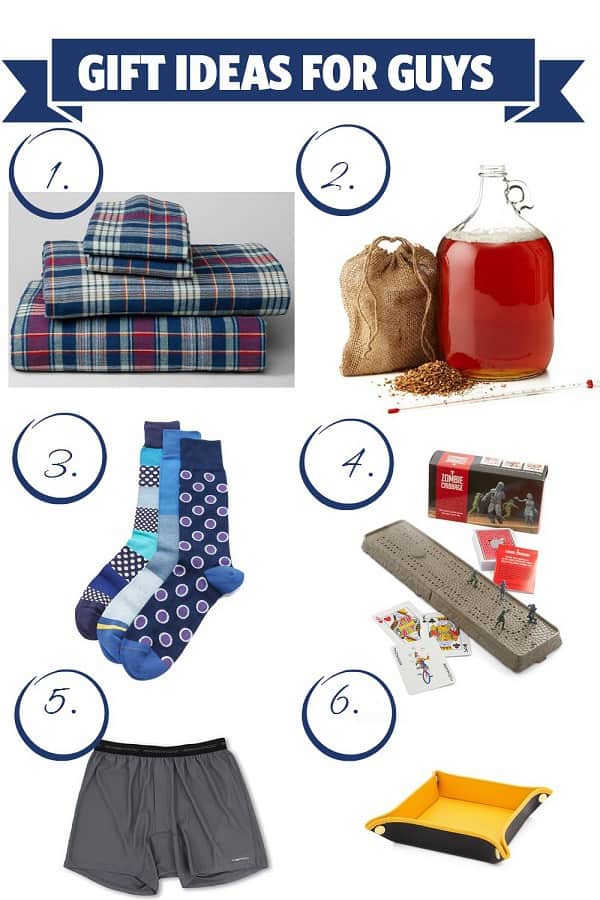 Flannel sheets aren't the sexiest of gifts, but sometimes your SO/father/brother wants comfort — and the heavier the flannel, the more luxurious it is. I got a set of these 5.4 oz flannel sheets for my son when we moved to a big boy bed, and they're gorgeous and super soft. (The gray pair is also lovely.) Eddie Bauer extended its Green Monday sale — through today you can get 40% off sitewide, plus free shipping and free returns.
Liquor gifts are always an easy category for the guy (if you're really looking for something unique, check Etsy — these whiskey lights are kind of awesome). I like the wide selection of beer-related gifts over at Uncommon Goods, including this West Coast style IPA Beer Brewing Kit.
Colorful socks are in — and kind of a status symbol. I love this Paul Smith pair from East Dane (of course I do), but Happy Socks is also great, and Nordstrom and Barneys all have a ton of fun ones as well.
If your guy is into TV shows, there are always fun options — this cribbage set is great for the Walking Dead fan; I've also gotten a variety of sci-fi themed things for my husband in the past from ThinkGeek (25% off sitewide, ends today!) or BustedTees. (He likes this shirt so much I bought it for him twice.) (How perfect is this mini fridge for a man cave?) (Update: as noted by a reader, Amazon has the cribbage set cheaper.)
These boxers are supposed to be amazing — particularly for the guy who hates to pack luggage because you can wash them in the sink. Get him a pair (or, you know, two or three). (They're having a buy-2-get-25% off on the Ex Officio site, where you can also check out this cool winter jacket that converts to a neck pillow.)
Valet trays are for men what bowls are for women (or, hey, the woman who doesn't like bowls): a dedicated space to empty your pockets when you come home from work. I like this fun yellow one from East Dane.
Ladies — what are you getting for the guys on your list? Did you get your guy anything that he continues to rave about?
We are a participant in the Amazon Services LLC Associates Program, an affiliate advertising program designed to provide a means for us to earn fees by linking to Amazon.com and affiliated sites.