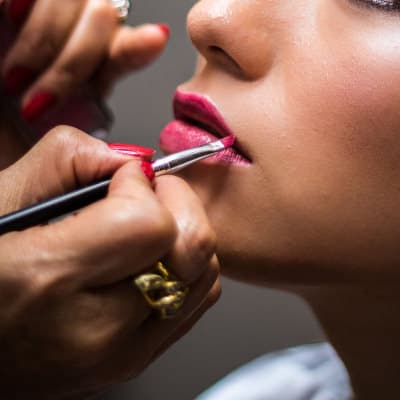 Here's a fun question for today: How do you find new beauty products and decide which to buy? If you're looking for a new mascara, for example, do you wade through tons of online reviews? Ask your makeup-wearing friends about their favorites? Pick up a mascara while you're at the drugstore because you've heard good things about it?
While we've previously talked about overrated beauty products, beauty empties (the products you actually finish), and the best beauty store tips and tricks, we haven't specifically discussed this before.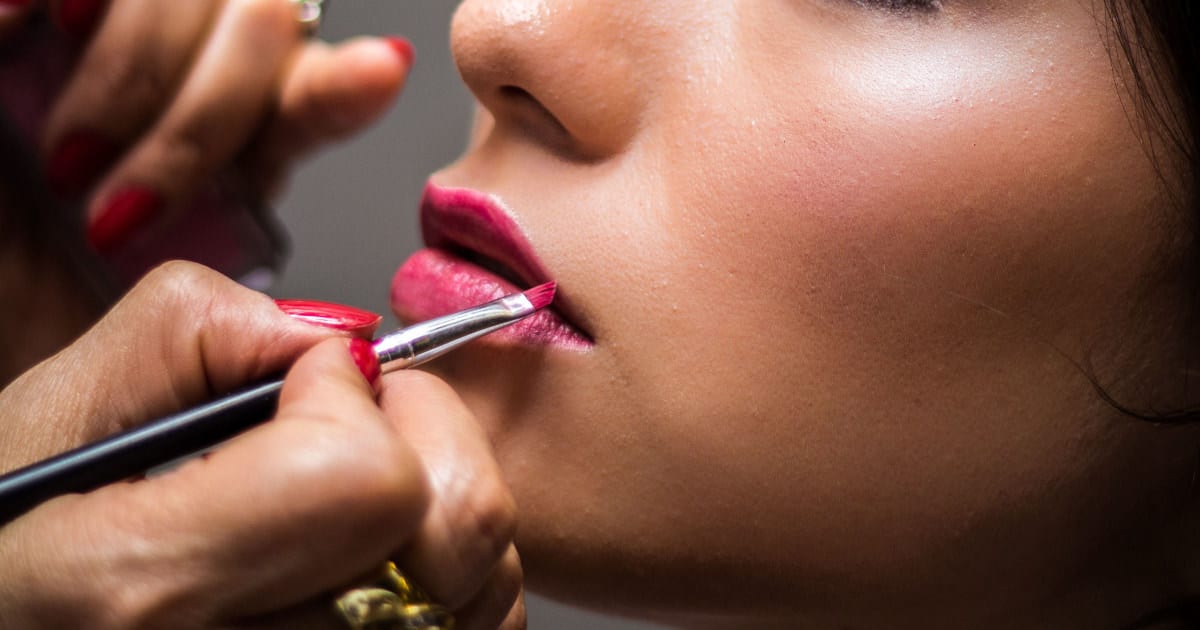 Here are some online resources to help you when you're trying to find new beauty products:
Reviews on Ulta or Sephora: The most popular products on these sites have hundreds or even thousands of reviews, while others have zero. Customers occasionally include images, but I usually don't find them helpful because people are often wearing multiple products and I can't see the particular effect of the one I'm interested in. Customers also seem to frequently use filters or otherwise edit their images, which doesn't help either.
The two companies' reviews offer various "extras"; Sephora tells you the number of "Loves" for each item and gives the option to highlight reviews from your "Beauty Matches" (those who share your eye color, hair color, skin tone, and skin type), while Ulta shows the most commonly stated pros and cons (e.g., "blends easily" or "creases"), ranks the best uses (e.g., everyday, work), and categorizes the styles of the reviewers themselves (trendy, natural, or classic).
Amazon reviews: I hesitate to buy beauty items at Amazon now because of the reports of counterfeit products (although it definitely isn't the only site facing this issue) as well as the number of fake reviews, which seems to be growing. (One of my favorite podcasts, Reply All, recently did an episode to answer "Why does it seem like Amazon has suddenly gotten a lot sketchier?" — it's worth checking out.) To determine the authenticity of reviews for a certain product, try the website Fakespot, which we recently recommended. Still, Amazon often has the highest number of reviews — for everything from high-end to drugstore products — so I check it even when I'm planning to buy elsewhere.
MakeupAlley: In "internet time," MakeupAlley, which offers product reviews and discussion boards, has been around forever — since 1999. It currently claims to have 2,742,851 reviews of 170,436 products. I've rarely used the site myself, but a few years ago, Racked (R.I.P.) published a piece on the site, which it called "the most secretive community of beauty obsessives."
Reviews on a brand's website: I don't know if my instincts are correct here — let us know your thoughts — but I tend to give less weight to reviews I read on a beauty brand's own site than the ones at general beauty retailers. I do this because specific-brand reviewers are an even more self-selected group than those who use sites like Sephora (or especially Amazon). I may be overanalyzing here — but unfortunately there's no Fakespot tool for, say, Clinique.com.
r/MakeupAddiction (Reddit): I haven't spent a lot of time in this subreddit (definitely less than I've spent in, um, r/catpranks), but I've heard it can be very helpful (along the lines of r/ABraThatFits, which we mentioned in our recent post on how to buy a bra). It seems like a good place to find honest, unbiased, unfiltered opinions on beauty products. You don't have to sign up for a Reddit account to browse r/MakeupAddiction, but you do need one to post. (Be sure to read the guidelines for successful posts and the Newbie Guide.) Also check out r/Skincare Addiction — and just for fun, r/UnconventionalMakeup.
YouTube video reviews/tutorials: You probably know that there are many, many beauty videos on YouTube, including reviews, tutorials, and hauls. (If you are better about limiting your internet time than I am, you may not know that "Beauty YouTube" is a thriving subculture that even has its own scandals. Again, see Reply All.) Watching YouTube videos is a great way to see the products you're considering in action — depending on the lighting quality and the YouTuber's camera skills, knowledge/technique, and ability to get to the point. I recommend checking out videos by British makeup artist Wayne Goss, for one. Readers, do tell: Which beauty YouTubers do you watch?
Kat's quick add: One way I find new beauty products is by subscribing to different subscription services. (Here's my review of Play! by Sephora vs. Ipsy vs. Birchbox.) I've also been drawn to, say, a new lipstick or eyeliner because I read about it somewhere, liked the packaging or online copy, or saw a good sale. I love googling "[product name] + swatches" and reviewing all the different ones. There is something very zen about swatches!
How do you decide which new beauty products to buy? Which of the above resources have you used? Which sites' online reviews do you trust? (Or do you skip reviews entirely?) Do you prefer to try before you buy, either with free samples or in-store testers? Which beauty purchases have you later regretted, whether they were impulse buys or researched?
Kat's Short Makeup Routine
As of 2021, my short makeup routine is pretty boring — curled eyelashes + concealer + blush (Nars Orgasm) + powder, with a different lipstick and eyeliner depending on my mood. If I'm feeling extra fancy I'll add mascara, highlighter, and/or do my brows with this cream and this brush (here's my review). (I also add eye shadows in the "extra" days but it's a huge variety, maybe 25 or so different ones.)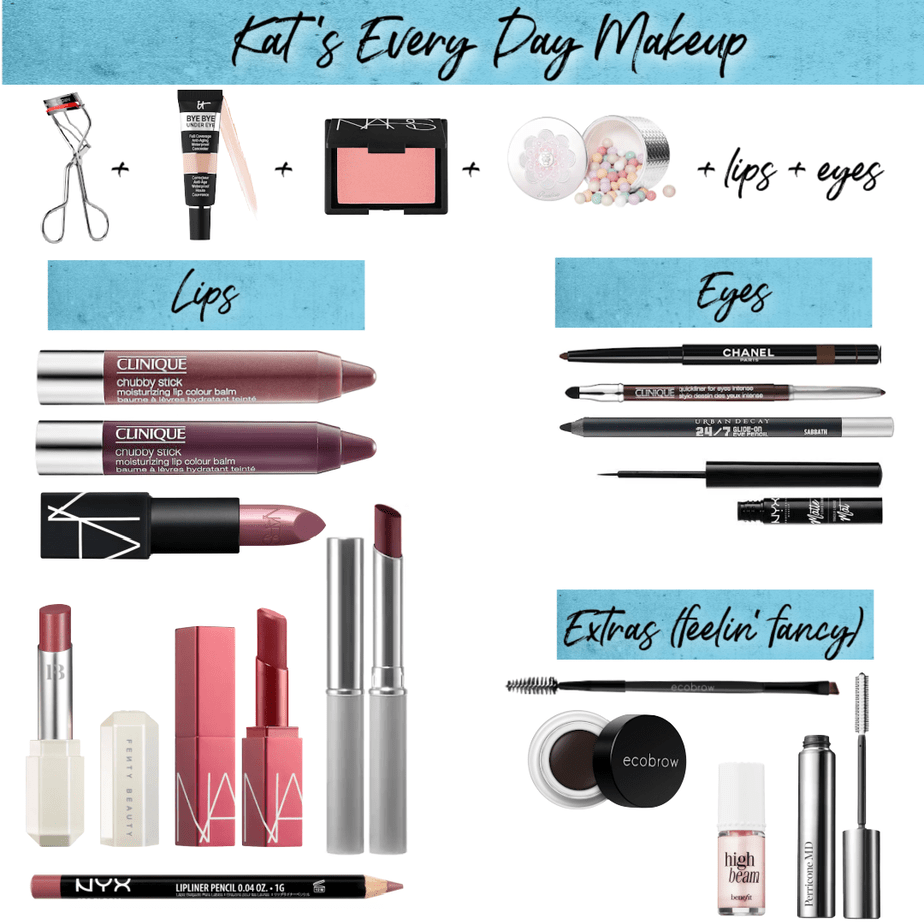 Some favorite lipsticks include Clinique (Graped Up & Voluminous Violet), NARS lipstick (Damage), Fenty (Goji Gang), NARS gloss (Orgasm, Fast Lane), and Clinique (Black Honey). I use this NYX lipliner (Natural) for almost all of them.
Favorite eyeliners include Chanel (Espresso), Urban Decay (Sabbath, Smoke), Clinique (Intense Chocolate & Plum), and this NYX liquid one.
We are a participant in the Amazon Services LLC Associates Program, an affiliate advertising program designed to provide a means for us to earn fees by linking to Amazon.com and affiliated sites.