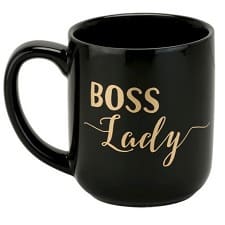 What are your best tips for a new mid-level manager for how to delegate to subordinates, readers? We've had a lot of conversations about how to be a boss, whether you should aim to be liked or respected as a boss, how to delegate work to your assistant, and we've also rounded up general reading for leadership resources for women — but it's been a while. So let's discuss how to delegate to subordinates. Here's Reader C's question:
I have a request that I don't think has been directly addressed in a post. I'm a mid-level Big Law associate, and I was wondering if you (and the hive) had some general advice for adjusting to the newer role of delegating to junior associates. I'm more friendly and generally willing to walk newbies through concepts, but I think I end up getting taken advantage of and not as respected as the more standoffish associates. How do I strike a balance?
Great question. A few easy tips for how to delegate to subordinates:
(Pictured: love this mug, available at Target for $20 (affiliate link) — the bottom of it says "I'm not bossy, I'm the boss.") 
Have a clear idea of what needs to be done — and what part you expect everyone to play in getting that done. Then, communicate that to your team. Some of the worst bosses I've worked with (including micromanagers who wouldn't delegate) just didn't have a great idea at the outset about the scope of the work that needed to be accomplished. Of course, if you're a mid-level in Big Law, this may not always be possible in a macro sense — but being clear on each task at hand is a good one.
Set boundaries, but be friendly. We've talked about being friends with subordinates before — and it can definitely be done! — but it's also ok to focus on being more "friendly" and less of a friend.
Encourage respect. Small formalities may help you: For example, a reader once noted that she said "good morning" instead of "hi" in the hallways as a way to set more of a business tone, and I always recommend grabbing a blazer to take to meetings (or to put one on before a meeting in your office). To this end you may want to rethink some of your personal habits, which may run the spectrum from frequenting the salon around the corner from your office (nobody likes to get a ton of work dumped on them and then see their boss getting a mani/pedi) to getting tipsy at office events.
Readers, what do you think Reader C should know? What are your best tips on how to delegate to subordinates? 
Social media picture credit: Deposit Photos / pressmaster.