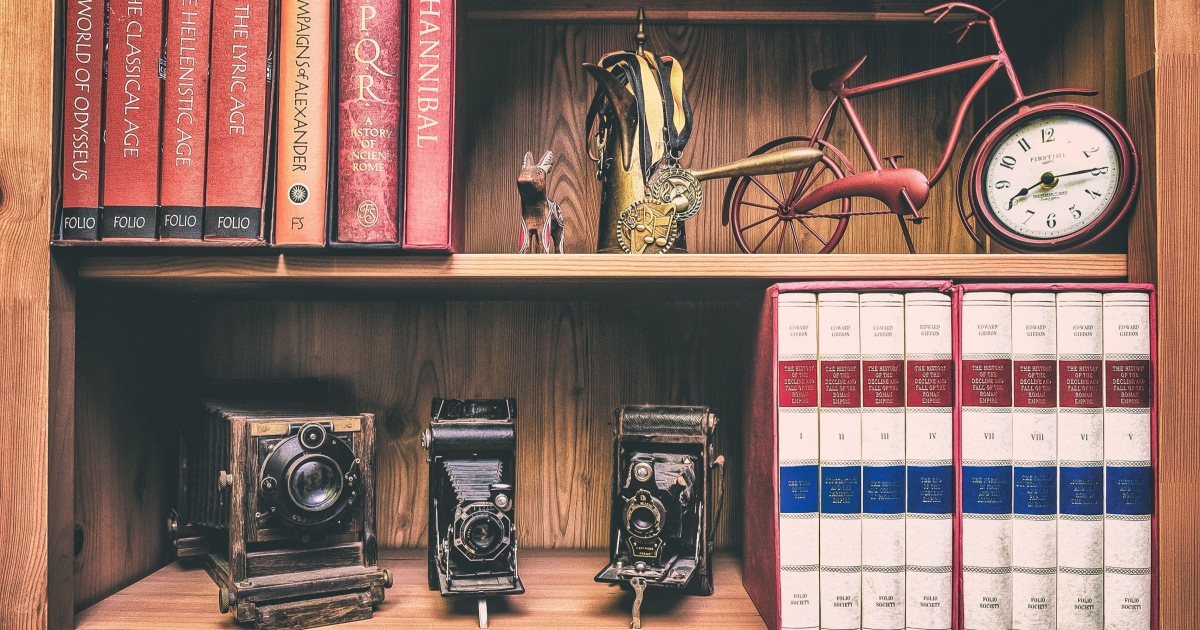 As we all spend more time at home, I thought I'd round up some easy ways to style a bookshelf, whether you're in that "organizing/elevating" mode or if you're trying to create that perfect Zoom background and make a bookshelf look pretty.
First, some general notes on organizing your books… There are a variety of ways! The "books by color" method seems to be under attack, which, hey, you do you.
For my $.02, I like to organize my books by subject matter, then by color. So, for example, in the "puzzle bookshelf" I have (kind of like this one), I have sections for fashion books, career advice books, online business books, writing/style guides, and "things I'm proud of," like my old magazine clips, some legal stuff I worked on (a cert petition, PLI guide, a client's book I helped defend against a defamation claim), the bound version of the GLJ when I was executive editor, Corporette mentions/interviews in magazines and books, etc., etc.
Within those books, they're organized by color, except where the height difference made more sense to put them at the end, or stacked instead of stood upright.
On some shelves elsewhere in the house, if I have a lot of books by one author then those books are all together regardless of color — but as my Kindle use goes up that's happening less and less.
This post contains affiliate links and Corporette® may earn commissions for purchases made through links in this post. For more details see here. Thank you so much for your support!
My Best Tips on How to Make a Bookshelf Look Pretty
Some suggestions…
1. Mix standing and piled books.
Some up, some down.
2. Use wittier books (or books with interesting spines) as art.
If you've got really tall coffee table books (or, HEY, the recent books on Bad Girls Throughout History we recommended from Ann Shen!), these look great to be a featured book that's a base in the stack. You can also get plate display stands and use them to display books. 
3. Go for interesting bookends.
I've got the obligatory agate bookends, but there are so many lovely, artistic bookends you can get these days, like some of the options below. I hate to say it, but Target, T.J.Maxx, and other discount stores are all great places to check if you're physically going to stores right now.
If you're looking in thrift stores or flea markets, keep "bookend" in the back of your mind as you look at some of the varied things on the shelves. After all, if it's heavy enough and the right size, anything can be bookend.
Here are a few ideas for bookends…

4. Add texture with small, interesting objects.
I like to use a variety of things here — currently I've got glass paperweights, tiny (fake) succulents, a glass weather predictor (I actually don't pay attention to whether it works or not, but it's pretty!), a mug or two with interesting sayings or special meaning to me, pretty tea tins, or even interesting candles. Again, I hate to say it, but the Target dollar bin is great for this stuff.
Because of my job, I got a hot pink hashtag statue for about $3. I think it's supposed to light up, also, but it's up too high for me to worry about switching it on and off. 
I could even see this being a great way to "make use" of toys from your past (or, hey, present).
Here are a few ideas for tiny objects to add interest (and now I have to buy this one for myself, lol)…

5. Add art and photos.
I don't actually like to use family photos for my bookshelves, but I've got a few framed postcards that I bought from museum exhibits, as well as some of my sons' artwork that was abstract and nice (not curling at the edges, etc.).
6. Box it up.
Whether you're using a box as a file holder, a memory keeper, a place for extra office supplies, or for other uses, there are a ton of interesting, pretty boxes you can get that also add interest to a bookshelf. (And, hey, some even work as bookends.) 
Ikea can be a good place to get these if you don't care too much about quality. I'll always be sad that Kate's Paperie is no more — that was one of my favorite spots for nice boxes to make your bookshelves look pretty!
Here are a few boxes to consider…

7. Consider fake plants.
My rule here is that the higher the fake plant will sit on a shelf, the more fake it's allowed to look. I have one ladder-style bookshelf (similar to this one) that has a super cheap plant near the top that I bought mostly because I wanted something primarily horizontal with a particular color vibe and I didn't want to pay too much for it. (Of course I'm going to upgrade it later. Uh huh. Sure.) 
(And I just snapped a quick picture of the ladder-style bookshelf on our Instagram account, if you'd like to check it out…)
Most of my "good" artificial plants have come from spots like West Elm, Crate & Barrel, or occasionally Costco (my mother got me a nice faux orchid). I'm also a fan of the Nearly Natural brand, which you can find at a ton of stores, including Amazon, Overstock, Home Depot, Wayfair, Target, and Bed Bath & Beyond.
8. Add vases.
Whether you fill them or not, vases can add height, color, texture, visual interest, and more. Personally I prefer opaque vases, and, frankly, vases I might find a bit hard to use as actual flower vases — they're better for me as objets d'art. 
If you've got a color theme in the room — particularly a secondary theme you're trying to emphasize with small details — vases are a great way to add that little pop of color. Think teal, red, whatever. On the flip side, if you have a dark room (say, navy) a bright white vase is going to look great against the wall.
You can also do the "vase as container" idea and get a clear, wide vase and fill it with something that's pretty and shelf-stable like those vase fillers that home decor stores sell, or get creative and fill them with something colorful like candy, small toys, or even office supplies.
Some of the prettier vases I'm seeing right now…

9. Consider lighting.
If you want to be super fancy, you can get picture lights or something like Philips Hue lightstrips. (If you want more of a boho look you can always use fairy lights inside a vase or draped artfully.) There are more and more affordable, interesting, WiFi controlled lights that are great to add to your bookcase. 
Some options I'm seeing right now…

Readers, what are your favorite ways to make a bookshelf look pretty? Am I alone in thinking that bookshelves packed with books look a little unstyled?
We are a participant in the Amazon Services LLC Associates Program, an affiliate advertising program designed to provide a means for us to earn fees by linking to Amazon.com and affiliated sites.