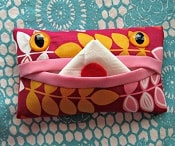 2017 update: Links have been updated below; you may also want to check out our latest discussion of how to pamper yourself when you're sick.
What do you do if you think you're getting sick — and what are your best tips on how to ward off a cold? We've talked about how to
work when you're sick
, as well as
whether you should cancel client meetings if you're sick
and "heavily drugged with cold medicine." But I think we've all been there: you wake up and feel that nasty tickle in the back of your throat, or perhaps you sneeze twice (when you always only sneeze once) — and you can tell: it is coming. So what do you do to ward off the sickness, or make it pass faster?
(Pictured: Monster tissue cozy by Trigo, available for $8 at Etsy – 2017 update; it's sold out now but here are lots of other tissue cozies at Etsy.)
For my $.02, I swear by a few big things to ward off a cold:
I use Zicam's zinc spray or melts, at the very least before going to bed (if not first thing getting up and at regular intervals thereafter). I hate the way it makes my mouth feel — HATE IT — but I always tell myself that I would rather have my mouth feel like carpeting for a few minutes than get sick for a few days.
I drink as much water as I possibly can. Seriously, a LOT. I kind of have a "pee it out" mentality, if you'll pardon the vulgarity. (I also do this with my son, for what it's worth — if he's been around a sick person, or seems like he might be getting sick, he gets as many "10% juice/90% water" cocktails as he can drink.)
I avoid dehydrating things if at all possible, and limit my coffee and alcohol intake.
I try to get a good night's sleep if possible.
Maybe I'm crazy (or just a "I think I have a cold coming on" hypochondriac) but I've successfully avoided a few colds this year through these steps, I think.
Readers, what's your best advice for how to ward off a cold? 
Social media image credit: Pixabay.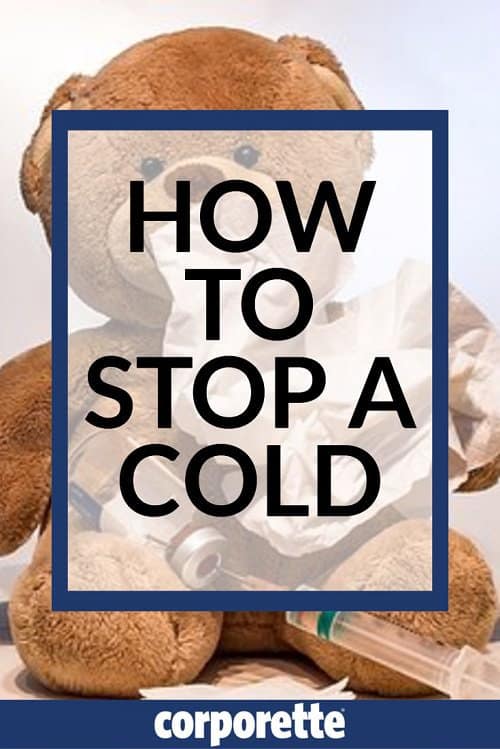 Readers, what do you do when you feel a cold coming on? How do you ward a cold off — and how do you prepare for one if you can feel it coming? When do you "call it" and declare yourself too sick to go to work?
We are a participant in the Amazon Services LLC Associates Program, an affiliate advertising program designed to provide a means for us to earn fees by linking to Amazon.com and affiliated sites.