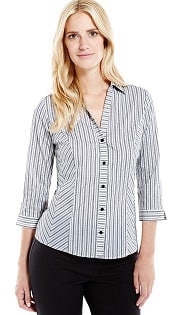 Our daily TPS reports suggest one piece of work-appropriate attire in a range of prices.
Reader J wrote in to recommend this shirt, noting: "I just bought a shirt from Marks & Spencer and thought, as a larger chested woman, it was the greatest thing ever. They sell 'no-peep' shirts which feature an extra (hidden) button around the bust, making sure that there are no gaps without making the shirt look weird with an extra button. They sell a bunch of them and I thought it would be great to share my find with other women who often have this problem." Nice! We've rounded up other blouses for the busty, and I've often noted that England is awesome for bust-friendly clothing, but I haven't seen the M&S "no peep" line before. The shirt is £18, which comes out to around $28. Nice. (To convert to U.S. sizes, check this size guide.) Marks & Spencer No Peep Easy to Iron Striped Shirt
Note that M&S is offering free delivery to the U.S. on all orders until 12/17.
Psst: I also like this silk one, and this plus-sized one.
Update: Note that 6pm is having a 12-12 sale with prices marked to $24, $36, and $48 — lots of 80%+ discounts to be had, like this nice JNY blazer or this Tahari dress, both for $24.  Here's a link to the general officewear section of the sale, and one for the blazers on sale (some of which are not showing up in the officewear section, annoyingly).

Seen a great piece you'd like to recommend? Please e-mail [email protected]