Can natural, kinky hair be a professional look for women of color? We've talked about long hair, blonde hair, even no hair — but we haven't truly talked about this. Accordingly, I'm thrilled to introduce Patrice Yursik, the blogger behind Afrobella, where natural hair is a regular topic. (It was not so long ago that some women — even fashion magazine editors! — professed that natural hair was a "don't," so I'm curious to see what readers say here.) – Kat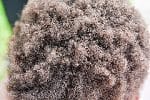 There are so many things to consider when beginning a new job. Will you be able to live up to expectations at work? What will your new coworkers be like? What should you wear? And what about your hair — how should you wear it to the office?
Hair might not seem like an issue worth seriously worrying about, especially if you're born with naturally straight tresses. However for many women around the world with naturally curly hair, there can be deeper issues at play. You might encounter old fashioned and unfortunate attitudes about office appropriate hairstyles. And if you're a woman of color who wants to wear your hair as it naturally grows out of your head, things can be even more complicated. (Photo credit: stevendepolo.)
Kat sent me this email from O as an example of the dilemma:
I truly believe in always looking your best. I will soon be starting a job at a midsize business casual law firm in NYC which only has one other woman of color, and no men of color to speak of. As a black female in the corporate setting, an issue that always comes up is our hair.

Currently, I have a "natural", but often change up my style depending on my mood. I go from twists to wigs. Lately I have been sporting a short styled wig, which gives me some sass, and must say looks great. However, this summer, I want to be carefree, and embrace my natural kinky hairdo. I would have what you would call a mini afro.

However, I am curious of the reaction that I might receive from others at the firm. Trust me, I know how to play the game, and have been playing the game all my life. I am wondering what the other seasoned women of color out there have done with their hair, have they received crazy looks, and am I making something out of nothing.
Reader O, congratulations on your new position! And congratulations on embracing your hair's natural texture. It isn't always an easy decision to stick to. My blog, Afrobella.com, is all about celebrating natural hair. In the course of five years blogging about this topic and interviewing women from around the world who have gone natural, I've come to realize that it takes courage.
Embracing your natural, kinky hair can mean going against your family's wishes. It can mean dealing with insensitive comments from friends, and it can mean having to deflect ignorance at the workplace. And yes — as covered in this recent CNN article, sometimes it comes with unsolicited attempts at hair touching.
I've experienced all of the above. In your personal life, you can give a snappy answer to a stupid hair question. In a corporate workplace…not so much. But as your circumstances would have it, I doubt you'll have to worry much about dealing with "crazy looks."
You describe your new workplace as a "business casual law firm in NYC." Please feel free to e mail me and let me know if I'm wrong when you've been there for a little while, but I'm going to go ahead and predict that the reception to natural hair in your corporate environment will be politically correct and welcoming. New York City is a mecca for natural hair, and while many women of color there do use heat, relax their hair or wear wigs and weaves to achieve a straight look, there are many, many women who rock their natural hair to corporate jobs and are making names for themselves in the Big Apple.
You mentioned that you enjoy a variety of hairstyles including wigs, but be aware that constant switching of your hairstyle might encourage your colleagues to comment on your changed appearance or ask questions about your hair. In general, I've found that my reaction can shape the outcome of these hair question exchanges entirely. I am the type who enjoys a good teachable moment and doesn't mind answering respectful and well meaning hair questions.
However, if you're not inclined to be the office's question-and-answer afro ambassador, keep your answers to any and all hair-related questions friendly but brief. Carefully deflect personal conversation to relevant work-related topics. The asker will eventually get the hint.
For Naturally Professional, a monthly interview series on Afrobella.com and CurlyNikki.com, I recently featured Carolyn Edgar, a stunning woman with beautiful locks, who works as Vice President and Legal Counsel for The Estee Lauder Companies. She knows professional women in every imaginable field, who wear their hair naturally and are well respected for their talents.
Carolyn also pointed out that most often, we expect judgment from others because of our own fears and past experiences. "It turned out no one cared what I did with my hair, as long as it was neat. That doesn't mean people didn't notice, or ask questions. But I have never been reprimanded, 'talked to,' or discriminated against because of my hair," she said.
Carolyn also pointed out that concern about hair texture in the office isn't solely a black female issue. Black men can face a different experience and find more judgment about their hair choices, particularly in corporate environments. Also white women with curly hair often also feel a pressure to straighten their hair so as to appear "professional."
"Curly-haired women of all races and cultures feel pressured to wear their hair straight and think of their own natural hair as "unmanageable." I think all women would benefit if acceptance of our hair's natural texture became a cross-cultural or multi-cultural conversation," Carolyn added.
The experience a professional woman might have working in New York City is likely to be quite different from the experience other women might have across the country, particularly in areas where natural hair is not as commonplace.
Another lawyer recently featured on Afrobella.com, Alycia Carter, hails from Memphis, Tennessee. According to Alycia, natural hair hasn't held her back in the slightest. "All of the response I've had towards my hair in the workplace has been positive. In the professional realm, your work will speak for itself."
When I specifically asked Carolyn Edgar about your prospects at your law firm, Reader O, she shared a similar sentiment. "As long as her hair is styled neatly and she dresses professionally, I doubt that her hair will be an issue."
Even though I work as a full time blogger (which just might be the diametrical opposite of corporate life), I would agree with Carolyn. If you come to work looking well groomed and office appropriate from head to toe and bring your A-game on the job, the way you wear your hair should not matter. And if you do get a question or reaction to your hair, don't let it disquiet your spirit or make you question what you bring to the workplace. You're a lawyer, and a professional.
Like you said, you "know how to play the game, and have been playing the game all [your] life." Should you ever get a crazy look from a coworker about wearing your hair in a natural style, brush your shoulders off and continue to do your job to the best of your ability. Their reaction might reveal more about their antiquated ideas about natural beauty, than it will reflect on you and how well you fit in at the office.
Readers, what are your thoughts on natural, kinky hair at the office? What about wigs, dreadlocks, cornrows, braids — is anything off limits in the corporate environment?
Workwear sales of note for 12.1.23
Our favorites are in bold!
Kid- and Family-Related Sales
Some of our latest posts here at Corporette…
And some of our latest threadjacks here at Corporette (reader questions and commentary) — see more here!